Minimalistic, sleek, and fun to drive, the Audi R8 is the car I found myself desiring to drive down the streets of LA – or maybe some other city.
I didn't really care, I wanted to drive this car and feel the awesomeness that comes from driving an incredible supercar like this.
To satisfy my vision, I had to know everything about the Audi R8, what kind of power it had, what kind of features could make my mouth water, or my jaw drop, even where it got its name.
The Audi R8 was first produced in 2005 and will be discontinued soon. It's a shame that this car will join the list of discontinued cars – and that list grows more each year! I also set out to clear up the confusion about the relationship between the R8 and Lamborghini.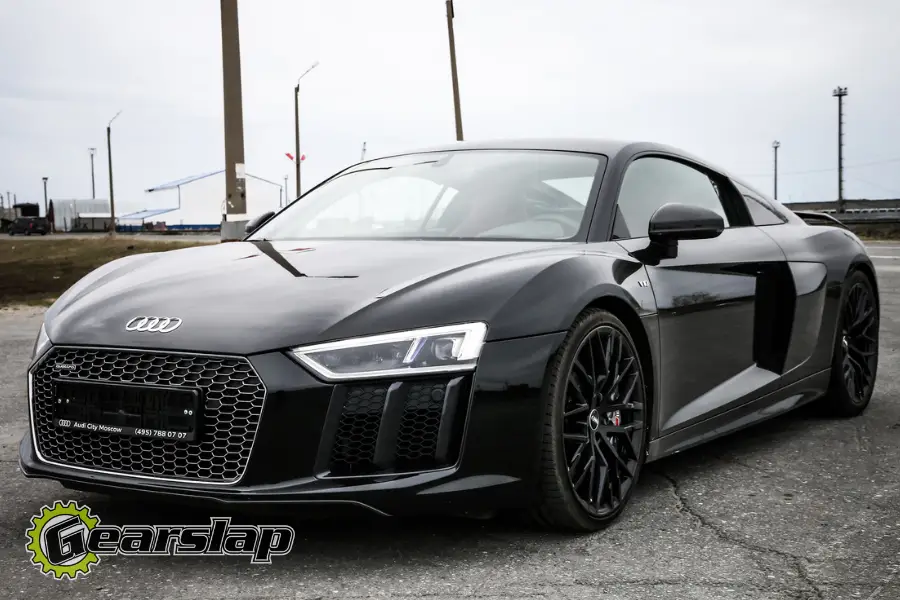 I discovered all this and more, and am here to share with you these ten awesome facts about the Audi R8 to drop your drawers and turn you into an Audi aficionado!
1. Audi R8 was named after a champion sports car
There might be some confusion from sports car lovers about why Audi AG, or what most people know as Audi, chose to name their car the Audi R8 and not the R9. In reality, the Audi R8 gets its name from the Audi R8 LMP, one of the most successful sports cars in history.
The Audi R8 LMP won 5 24 Hours of Le Mans races in a row in 2000, 2001, 2002, 2004, and 2005! However, the Audi R8 today is not just a mid-engine sports car, but a supercar combining the best of its motorsport DNA with a modern exterior package that looks ferocious and turns heads.
2. The Audi R8 turns 15 this year
In 2005 the Audi R8 was born, designed after the award-winning concept car "Audi Le Mans Quattro." In 2006, production started on the 4.2 Liter V8 version of the Audi R8, which was developed and assembled by the company now known as Audi Sport GmbH (since 2016).
The exterior design took inspiration from the Le Mans Quattro, creating the smooth Audi R8 look we know and love today. Since 2006, the design has changed somewhat in the Audi R8, but R8 performance remains exceptional and has even upgraded from a V8 engine to a V-10 engine starting with the Audi R8 Quattro.
3. Audi is actually a portmanteau word
A what?! A portmanteau word is a word that combines 2 or more words, like spork or chocaholic! In this case, Audi is combined from the words "Auto union," after 4 German companies banded together to create the powerhouse we know today as Audi. Although the Audi R8 is itself a German car with the Audi headquarters in Ingolstadt, Germany, the Audi R8 is sold all over the world and has 13 production facilities in 10 countries!
4. Audi R8's are made everywhere….except Australia
Recent announcements by Audi said that they will be halting production in Australia, a blow to Audi lovers in the land down-under. The reason for halting production of this performance coupe and the Audi R8 Spyder is due to an engine tune Australia requires for its cars to meet emission requirements.
Luckily, R8 models will still be available in other right-hand driving countries like the UK, so don't fret just yet!
5. The Audi R8 performance coupe stuck to its guns in the 2022 model
There were talks in recent years about a third-generation Audi R8 shifting gears (literally) from its first and second-gen R8 counterparts, going from an engine option to a hybrid or all-electric option.
That is not the case, as Audi chose to use the Audi E-Tron to make its mark in the electric vehicle market and continued to use its famous 5.2-Liter V10 engine in its new Audi R8 current model. Nevertheless, the 2022 Audi R8 did not disappoint!
6. One size does not fit all with the Audi R8
Did you know there are 3 different models for the Audi R8? These are:
The Audi R8 V10 Quattro
The Audi R8 V10 performance quattro
The rear-wheel-drive R8 V10 RWD
In addition, since 2015 there have been 2 versions of the Audi R8 available- the R8 Coupes and the R8 Spyder, with both using a seven-speed dual-clutch transmission as of 2015.
The base model for the Audi R8 is an amazing option in and of itself, offering its 5.2 V10 Quattro engine which outputs a whopping 532 HP and 398 lb-feet of torque, and comes standard with:
Heated seats
Audi virtual cockpit digital 12.3″ instrument display
Wireless charging pad
Bang & Olufsen® sound system
5 active speakers
Carpet floor mats
Alloy steering wheel trim
4-way power lumbar seats
The base price for the Audi R8 ranges from $140,000 to around $195,000 for the 5.2 Quattro V10 performance variant, which brings the engine's power output to 602 HP! More features on the performance models of the Audi R8 include:
Steering Wheel Mounted Controls including audio, phone, and voice controls
SiriusXM Satellite radio
Alloy wheels
Rear spoiler
Roadside assistance
and much, much more!
7. The Audi R8 RWD wouldn't be here without…Lamborghini?
The love-hate relationship between Lamborghini and Audi is one that many car enthusiasts strive to understand, and might be the stuff of legends.
To put it simply, in 1998, Audi AG purchased Lamborghini in order for them to have the funds to create a new, powerful engine (the V8), and then later the V10 engine. This same V10 engine has since been used in both the Audi R8 and the Lamborghini Huracan.
So yes, the Audi R8 does have the same engine as the Lamborghini, and also uses the same rear-wheel-drive that was once limited edition in 2018 models, but is now standard in the Audi R8 Coupe and Spyder and changed from the all-wheel drive.
8. The Audi R8 is more powerful in Europe
It's true! If you buy an Audi R8 in Europe, you will experience an average of 10 HP more than the U.S. version. This reason is that the U.S. allows the Audi R8 to keep its sports exhaust (and all the noise that comes with it), while in Europe, strict regulations make the Audi R8 go without. In addition, Audi is choosing to move away from manual transmissions more so than Europe, as people are now preferring safety features such as driver-assist in their vehicles, which just isn't possible to use in a manual transmission (sorry gear lovers)!
9. Styling and Speed continue to be standard on the Audi R8
The R8 is known for being more chic and comforting than traditional supercars like the Lamborghini Gallardo. The detailing inside and out is remarkable, with a lightweight aluminum monocoque exterior and leather interior making the Audi R8 a pleasure and comfort to drive, and a beauty to look at.
With a top speed of 200 miles per hour, people expect nothing but power and luxury that continues to be standard in every model of the Audi R8. The 2021 Audi R8 model still keep's Audi's astonishing power to go from 0-60 MPH in 3.2 seconds!
10. It's Won't be here Long
The Audi R8, like any vehicle, has its downfalls. From its 14 MPG city fuel capacity to its limited 2-seater capacity, the Audi R8 is a luxury for those that can afford it. Many wonder why it's so expensive to purchase an R8, and why features add up on the bill, such as $3,000 for full leather seats and an extra $500 for contrast stitching. What gives? Well, for starters, the Audi R8 is one of only 3 cars that use a powerful V10 engine, which makes this a must-have for those not willing to compromise on speed. Unfortunately, you'd think that with all that power and speed Audi would have put more safety features into its R8 models, but this isn't the case. To make up for the lack of safety features, and invest in more autonomous driving, and digitization, Audi is planning to end production of the Audi R8 and Audi TT models by 2023. A sad goodbye, but one that might make current Audi R8 models more valuable in the future.
We said in the beginning that these were fleeting facts… just like the car.
My puns on this site are probably a 3 out of 10. But, we R8 this car an 11 out of 10 however!