There's a lady down the street who drives a really nice white Porsche Cayenne. She has four kids that go to school with my kids. She's also friends with my wife.
She came over one day and, being the extremely curious and not really shy guy that I am, I asked her all sorts of questions about her car. Much to my disappointment, she didn't know a lot of the answers I asked her about (there's probably a joke in there somewhere, but I'll refrain).
The one thing she did say was that it was a really fast car, incredibly luxurious and fit her family well. I was actually shocked about the last bit.
Since I wasn't able to get the answers I wanted, I had to do my own research. Below are some of the things I learned. The summary is this:
The Porsche Cayenne is a luxury car with a focus on performance and utility. It's a midsize SUV in its third generation and has six different trims: Cayenne GTS, Turbo S E-Hybrid, Base, S, E-Hybrid, and Turbo.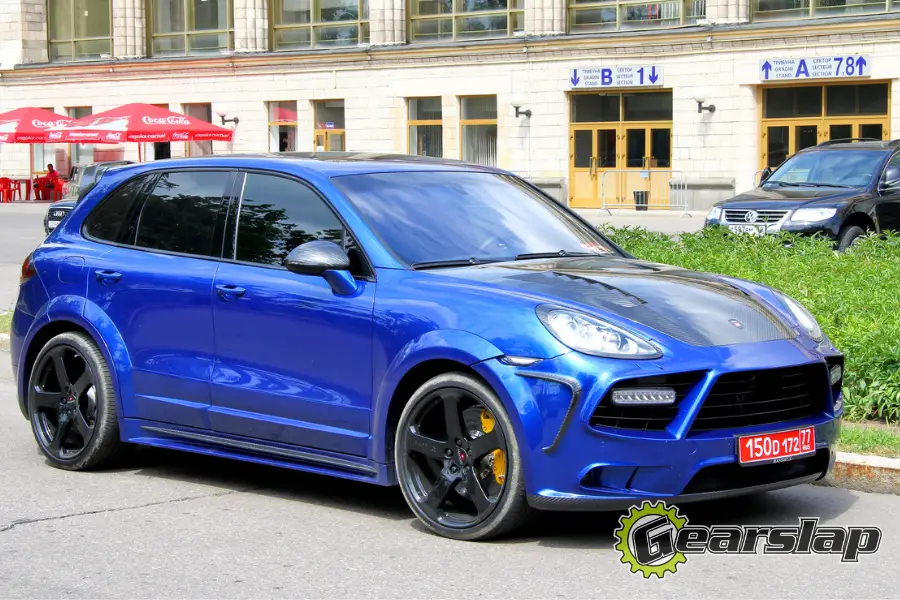 All these models come with an all-wheel drive, eight-speed transmission, and a range of powertrains. In this post, we'll look at nine facts about the Porsche Cayenne. Read on to find out more.
1. When Was Porsche Cayenne SUV First Produced?
The Porsche Cayenne SUV was first manufactured in 2002 and has since been a popular choice for many motorists. It's a German automaker's third SUV model range, which some people sometimes refer to as a Porsche Boxster SUV.
Does Audi ake Porsche Cayenne?
No, the Cayenne is not made by Audi. All Porsche models are manufactured and owned by Volkswagen AG.
Does the Porsche Cayenne Have an Audi Engine?
The Porsche Cayenne SUVs are generally built on the VW Group's MLB Evo platform, shared by Audi A4, A5, A6, A7, A8, Q5, Q7, Q8, VW Touareg, Audi e-tron, Lamborghini Urus, and Bentley Bentayga.
Is It Considered an SUV or a Crossover?
This particular Porsche is an SUV typically used in off-road driving, difficult terrains, or generally rough roads – at least in the commercials.
In reality, these cars spend most of their time going on gentle roads, to and from the mall. Of course, this is mostly from my own experience with my neighbor's car.
Is It a Supercar or a "Super SUV"?
The Porsche Cayenne is a super SUV. Advertised as an "all-weather sport vehicle" with "super SUV performance," the Cayenne is capable of some serious wheeling due to its engine's power and control.
2. How Did Porsche Cayenne Get Its Name?
In 2000, the German automaker decided to go for Cayenne as a name for its high-performance vehicles because most people understand it. According to the then Porsche Chairman, Wendelin Wiedeking, the name radiates emotion, dynamism, fascination, and true strength.
What Does Cayenne Mean on Porsche Cayenne?
Cayenne means red pepper made from species of capsicum. It can also refer to a type of food for whales ‒ usually small, red, and found at the ocean's surface. 
3. Where Is It Currently Sold and Manufactured?
The Porsche Cayenne model is a German-built product. The manufacturing of its bodies and powertrain takes place in Bratislava, Slovakia, while final trimming and assembling occur in Leipzig, Germany.
Generally, the company sells its Porsche Cayenne SUVs worldwide.
4. Which Variants/Trim Packages Are Offered
As of 2021, you can find Cayenne in six different variants or trims. The variants include the Cayenne GTS, E-Hybrid, the Turbo, the Turbo S E-Hybrid, the S, and the Base Model. Each of them offers impressive speed and power levels.
Most of the base models come with a standard equipment package that includes adaptive cruise control, Porsche active suspension management, Porsche surface coated brakes, heated seats and other nice features (including some carbon fiber bits & pieces throughout).
Describe the Powertrain, Interior, Exterior, and Other Offerings of the Various Trim Packages?
Below is a detailed description of the various trims of Porsche Cayenne SUVs.
Porsche Cayenne E-Hybrid
The Porsche Cayenne E-Hybrid is a plug-in hybrid that runs on electric power. It has a 4.0-liter twin-turbo V8 engine that generates 455 horsepower and 516 pound-feet of torque.
Besides Cayenne's traditional rear seats and ventilated fronts, the SUV offers front massage seats, more supportive seats, four- zones climate control, and more. The exterior design features an automatic rear hatch, rear privacy glass, and twin single-tube tailpipes.
Some of its dimensions include:
| | |
| --- | --- |
| Dimension | Measurement |
| Height | 66.8 in |
| Max Width | 78.1 in |
| Length | 193.7 in |
| Wheelbase | 114.0 in |
| Front Width | 66.2 in |
| Rear Width | 65.9 in |
| Curb Weight | 5,164.0 lbs |
Porsche Cayenne Turbo
The Porsche Cayenne Turbo powertrain is a 4.0-liter twin-turbo V8 engine. It generates a maximum power of 541bhp and 567 lb-ft of torque. The engine also features direct fuel injection technology.
Its interior has an incredible amount of space along with a high level of quality and luxury. Moreover, its exterior design offers increased ride height, massive ventilation up front, and an aggressive rear spoiler.
Some of its dimensions include:
| | |
| --- | --- |
| Dimension | Measurement |
| Height | 65.9 in |
| Max Width | 78.1 in |
| Length | 194.0 in |
| Wheelbase | 114.0 in |
| Front Width | 66.5 in |
| Rear Width | 65.8 in |
| Curb Weight | 5,056.0 lbs |
Porsche Cayenne Turbo S E-Hybrid
The Cayenne S E-Hybrid provides powertrain technology that's innovative, efficient, and environmentally friendly. Since it's part electric, it has maximum torque coming out of the rear wheels thanks to the electric motors.
It's powered by a 4.0-liter twin-turbo V8 engine with a total output of 670 hp and 663 lb-ft of torque. Just like the Turbo trim, this engine also has direct fuel injection technology.
Its interior offers 18 different seat adjustments, an electrically adjusted steering column, an infotainment system, and more.
Its exterior dimensions are the same as the Porsche Cayenne Turbo but with a towing capacity of 7,770 lbs.
Porsche Cayenne S
You'll find the Porsche Cayenne S powertrain to be formidable thanks to its 2.9-liter twin-turbo V6 engine and standard all-wheel-drive configuration.
The engine produces 434 hp, which is enough to achieve 0-60 mph in about 5.5 seconds, making it one of the fastest SUVs on the market.
Also, the trim has rear-axle steering with a 39.7 ft turning diameter.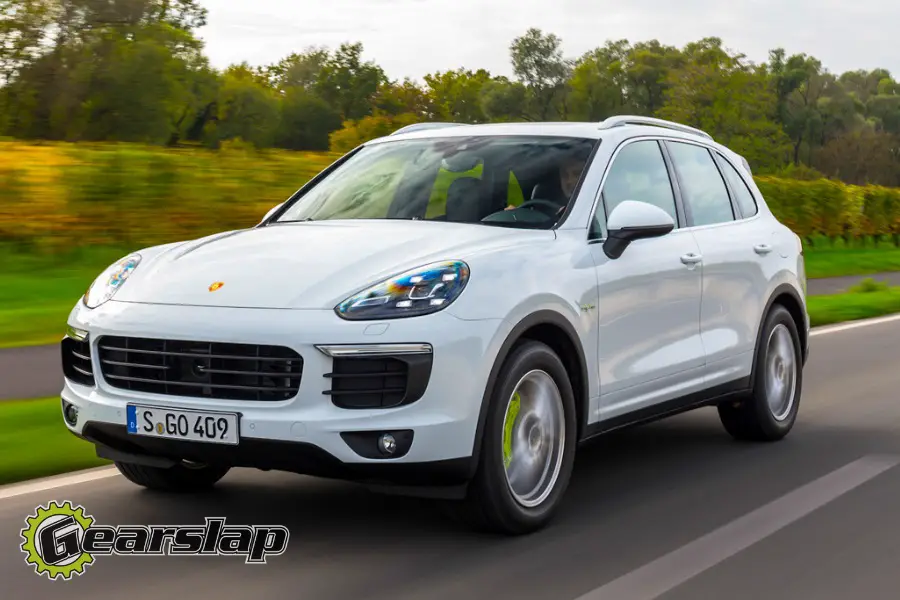 Porsche Cayenne GTS
The Porsche Cayenne GTS has a 4.0-liter twin-turbo V8 engine with 453 horsepower and a torque of 457 lb-ft.
Besides its enhanced performance, Cayenne GTS's interior has a unique, stylish, and sporty design. For increased comfort, it has a sitting capacity of five persons with dimensions almost similar to the Porsche Cayenne Turbo.
This trim variation also comes with 22-inch GT Design wheels as an option.
Are There Variations/Differences Between the US and European Models From the Same Manufacturer?
There are only minor differences between the US and European model range of the Porsche Cayenne SUV. A few examples include the PCM-Telephone setup, side marker, and blinker lights.
What Does GTS Mean on Porsche Cayenne?
GTS stands for Gran Turismo Sport. The acronym signifies the performance, convenience, and added comfort that comes with the vehicle.
Is It All-Wheel Drive or 4×4 (Four-Wheel Drive)?
The Porsche Cayenne is an all-wheel drive (AWD), meaning it powers both the rear and front wheels simultaneously. AWD is effective when taking over rugged terrain compared to four-wheel drive.
5. What Is It Known For?
The Porsche Cayenne is commonly known for its luxurious enhancements that make your driving fun and exhilarating. It's a dynamic and top-notch performer due to its unique interior and exterior features and powerful engine.
How Is Its Styling/Features?
Although it's an SUV, some people still argue that the Cayenne looks like a Listed Porsche Sports Car.
What Is the Top Speed?
The SUV can reach speeds of up to 286 km/h. However, the speeds vary from one model to another.
What Is the 0-60 Time/Speed?
Porsche Cayennes can accelerate to 60 mph in just 4.9 seconds. The car lets you track your fuel economy and has an average fuel consumption of about 17 MPG,
Is It Good in the Snow or Extreme Weather?
The Cayenne is excellent for extreme weather and snow because it's equipped with the latest technology.
6. What Makes It Reliable, Awesome, Cool, Attractive (Why Would Someone Want It)?
Cayenne's sleek design and luxurious interior, advanced active safety systems, crash protection, and emergency steering light assists are some of the features that make most people want to buy it.
Is the Porsche Cayenne SUV Reliable?
Yes, the Porsche Cayenne SUV is highly reliable. It's a sturdy, agile, and lush SUV that can take you to your destination swiftly and comfortably.
Is It a Good Family Car?
Porsche Cayenne SUV is a good family car because it's spacious and has enough seating capacity. Moreover, its storage capacity can accommodate your whole family's luggage.
What to Consider When Buying a Cayenne?
Some factors to consider include model series, night vision assist features, adaptive dampers, steering wheel, and more.
Is the Cayenne Comfortable?
There is always a comfy feeling about a Porsche Cayenne SUV ‒ both the interior and the exterior. For instance, the rear and front seats are explicitly designed with enough legroom to fit all passengers.
7. What Are Common Problems With It?
Some commonly reported problems with it include broken plastic coolant lines, electrical issues, and engine failure.
Other minor problems include:
Tire wear
Vacuum leak
Water pump problem
8. What Is the Average Price or Price Range Currently for Each Trim Level (In USD)?
Here is a breakdown of the GTS, S, E-Hybrid, S E-Hybrid, Turbo, and Base price ranges:
| | |
| --- | --- |
| Trim | Price Range in USD ($) |
| Base model | 82,500 – 82,990 |
| E-Hybrid Model | 99,500 – 100,440 |
| S Model | 101,800 – 102,120 |
| GTS Model | 121,000 – 121,880 |
| Turbo Model | 152,100 – 152,450 |
| S E-Hybrid Model | 180,300 – 182,140 |
9. Would It Be Good for Off-Roading (Has Anyone Created an Overlanding Version)?
The Porsche Cayenne SUV is an excellent vehicle for off-road driving because of its surprisingly good ground clearance. Due to this, some people have already created an Overlanding version of this SUV.
There are many reasons why this SUV would make a nice addition to your stable – if you can afford it. However, if you're asking me, it's a completely impractical car. But there is a market for this oddly positioned Super SUV. Obviously, the designers were most likely referring to the chili pepper when they landed on this name.
This is one hot SUV!