The first car I purchased for myself was a Mitsubishi Galant. I cared for that car so well, even carrying around a "cleaning bin" full of glass cleaner, a chamois, microfiber towels and scrubbing brushes.
After adding custom wheels, tires and dark tint, I wanted to keep it looking crisp all the time. But, the first time I cleaned my windows, I was left with a streaked, blurry mess – especially noticeable at night.
Cleaning your car can be a fun and accomplishing experience as you watch all the dirt come off your vehicle. However, crystal clear windows can be hard to achieve, and you'll often notice streaks on the glass due to your cleaning method.
What had I done wrong when cleaning my windows? First, I tried cleaning them out in the sun instead of in the shade. The heat caused the cleaner to dry too fast, which caused streaks.
The second thing I did wrong was using an old rag from my grandpa's garage to dry them off – the rag, I found out later, had a light layer of oil and grease. I should have used a microfiber towel.
If you need help cleaning your windows, here's how to clean windows without streaking (Ignore the image I used below that shows a paper towel – we don't recommend paper towels for cleaning windows!)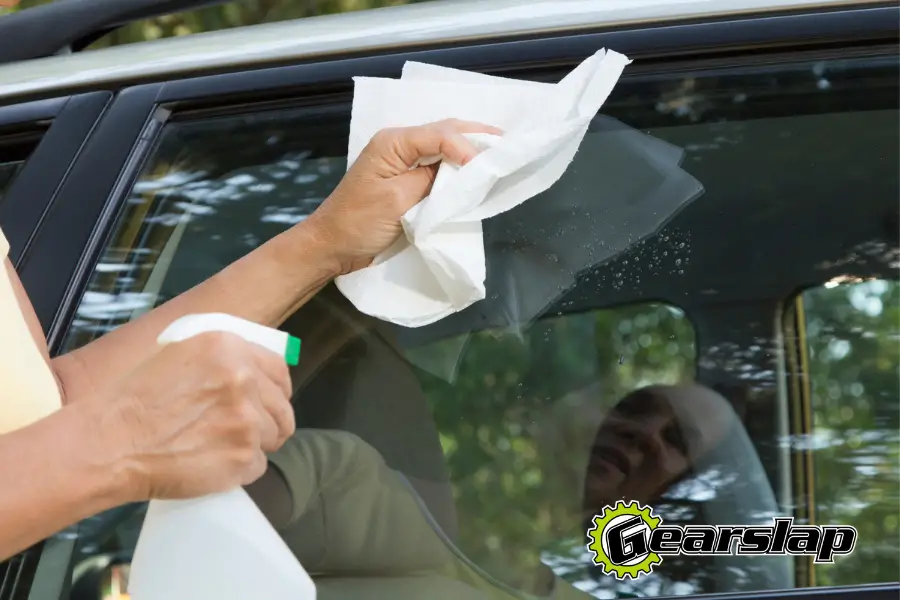 Why Do Car Windows Streak When Cleaning Them?
There are a few reasons you're noticing streaks and smudges on your car windows after cleaning them. If you're asking yourself, "Why are my windows smeared after cleaning," it's likely because of the cleaning products. Causes of streaks include:
You're not using the right cleaner
You're not wiping the cleaner away fast enough before it dries
You're not using enough cleaner
You're using the wrong cloth
You're not using clean cloths
You're trying to clean when it's too hot or in direct sunlight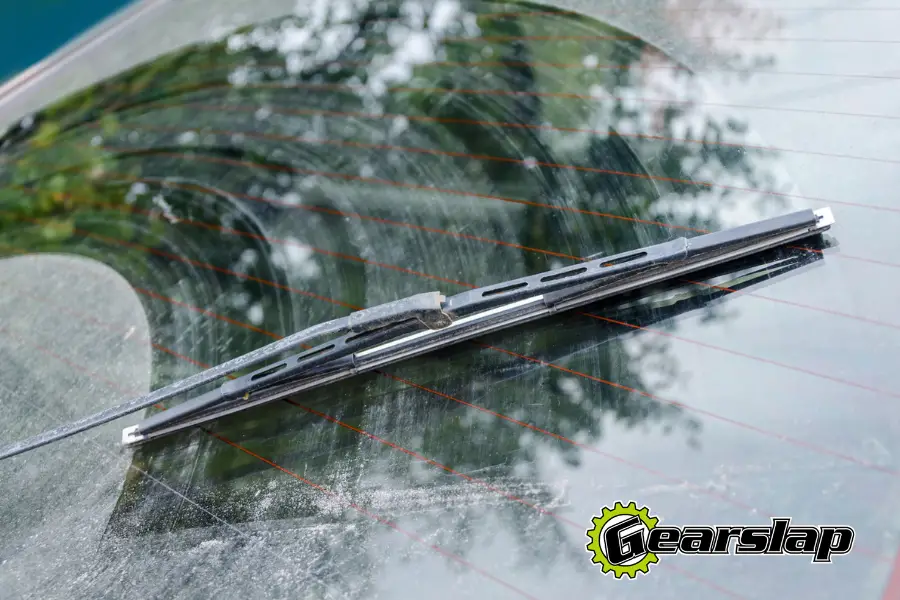 What To Use When Figuring Out How To Clean Car Windows Without Streaking
Many people choose to clean their cars with whatever cleaning products and towel materials they can find around their houses. While cars can hold up to many household cleaning products, it doesn't mean they're the best choice.
Sometimes you need car-specific products to clean your vehicle if you want the best clean and streak-free windows. Here are the things you should and shouldn't use on your car windows if you want a streak-free clean.
Towel vs. Paper Towel vs. Microfiber Cloth vs. Rags
I used to use bath towels on my car until I noticed that it wasn't doing the job, and I started seeing hairline scratches. While towels might seem soft to the touch, the material usually isn't best for car windows. The hems of towels are tough and tightly woven, which can scratch your glass windows over time with each wash.
Rags fall into the same category as towels. If you categorize something as a rag, it's probably an old piece of cloth with stains and textures due to its overuse. Rags will not completely wipe your windows clean and can scratch them. It's best to avoid using rags altogether.
Paper towels are a softer and slightly less damaging option when cleaning your car windows, but they can leave behind some lint. Paper towels are used more for absorbing liquids rather than cleaning.
Microfiber cloths are the best thing to use on your car windows. These cloths are a combination of nylon and polyester and can hold up to eight times their weight. Microfiber cloths have tiny fibers that won't scratch but can cause static, which helps pick up dust and other small particles. The best part is that microfiber cloths don't cause streaks!
Always opt for good quality, lint-free microfiber cloths when cleaning your car windows.
GearSlap's Pick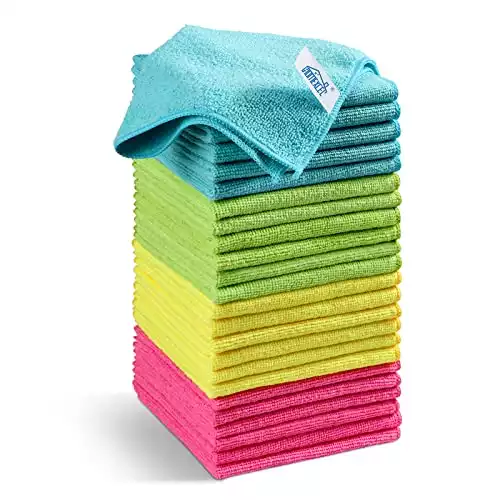 Microfiber Cleaning Cloth, 24Pack Cleaning Rags, Cleaning Towels - 12"X12"
LINT-FREE & SCRTACH-FREE: Made of 85% Polyester, 15% Nylon, these cleaning rags are soft to the touch and lint-free. And it will not scratch or damage any finishes. Just clean it at your will.
VERSATILE &EASY TO BE WASHED: Not only for the general clean task, but also for car exteriors or interiors, electronics, eyeglasses, collectibles, screens, and more.
Check Price on Amazon
We may earn a commission if you buy, at no added cost to you.
Rubbing Alcohol vs. Windex vs. Auto Glass Cleaner (Alcohol vs. Ammonia) vs. Dish Soap vs. Vinegar
Rubbing alcohol is the perfect solution when learning how to clean car windows without streaking, as it always leaves a streak-free shine. It is also easily accessible and has antibacterial properties, so it's great for disinfecting windows that have bird poop on them.
Windex is a glass cleaner, so is Windex good for car windows? Windex is okay to use on normal, untinted windows, as it leaves no streaks. However, allowing it to drip down your car can damage and break down your car's paint. So, I wouldn't use it and don't recommend it for automotive use.
Auto glass cleaner should always be your first choice when cleaning car windows because it is specifically made for automobile glass. You'll find that many auto glass cleaners have alcohol in their ingredients and are almost always ammonia-free. You can feel confident that these cleaners will not harm your car.
Dish soap is another product that is just okay to use on car windows due to its harshness. Soaps such as Dawn dish soap are specifically for scrubbing grease off dishes, so if this soap gets on your car's paint, it can start stripping it.
Vinegar is a safe acid that you can use on your car windows. Acetic acid (vinegar) can break down the following:
Mineral deposits
Grease
Dirt
Grime
Bacteria
Most of these things will end up on your car windows, so a simple solution of vinegar and water can easily take them off. Use distilled white vinegar for no stains and a streak-free shine. It's also safe for your car's paint if you dilute the vinegar with water, so it's okay if it drips down the windows.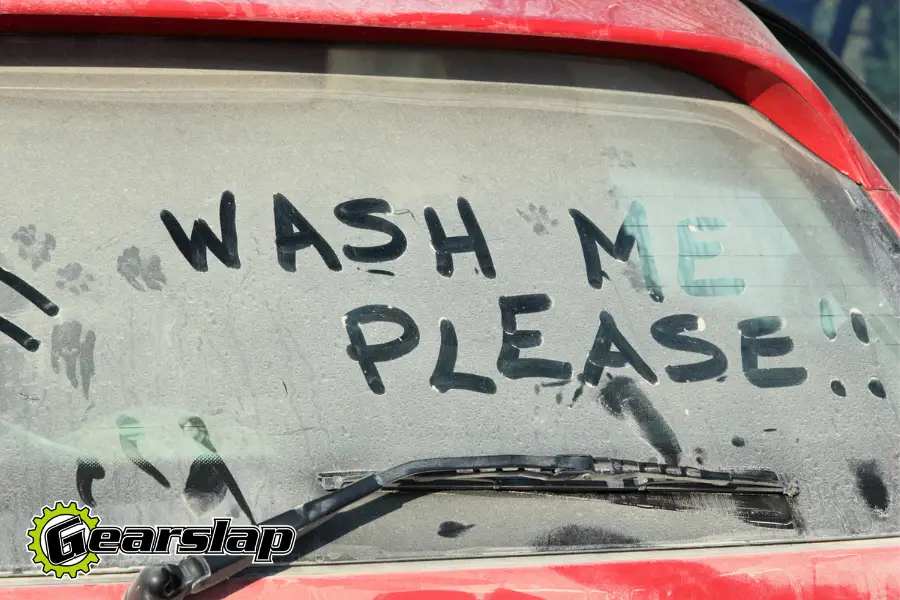 Is Ammonia Bad To Clean Tinted Windows With?
Ammonia can do some serious damage to tinted windows because it can interact with the tint and cause:
Color changes
Bubbling and adherence issues
Cracking
Ammonia is a drying and harsh cleaning product, which is the culprit for all of these changes in your tint. While tint strongly adheres to your windows, it cannot handle chemicals.
There are some out there that claim that cleaning your windows with Windex or other ammonia-based cleaners doesn't do any harm to tinted windows. They are partially correct… in the short term, ammonia damage isn't noticeable. But you can see its effects years later as your tint changes from a nice black hue to purple. Long-term damage is real.
Ammonia breaks down the dyes used in most window tints.
While newer, high-quality tint film claims to be more durable and resist damage from ammonia, I still wouldn't risk it. It's too powerful a chemical, and you want to keep your window tints the proper shade for the lifetime of your car.
What Is the Best Thing To Clean Car Windows With?
The best thing to clean your car windows is an auto glass cleaner if you can access one. You can find them at auto part stores, online, and even in your local grocery or department store. Auto glass cleaner is the safest option for your car, as it won't damage the paint or tint on your windows, and they're streak-free.
Always use a microfiber towel with cleaners to prevent scratching and to help buff out the windows. We recommend Sprayway Foaming Glass cleaner (highlighted in the box below). It's the best!
GearSlap's Top Pick
How To Clean Car Windows Like a Pro
Here are some easy steps to help you learn how to clean car windows without streaking.
Start on the inside by wiping away any dust off the windows with a dry, clean microfiber cloth.
Spray an alcohol and water solution, vinegar and warm water solution or an auto glass window cleaner on the inside of the windows.

We don't recommend using mild dish soap or soapy water because it often leaves a residue that is hard to rinse.

Gently wipe the cleaner away with a microfiber cloth until the windows are dry using a large circular motion.
Repeat the steps for the exteriors of the windows – ensuring to dry thoroughly so you don't leave any water spots.
TIPS to Remember:
Park in the shade or clean on a warm overcast day. This will help prevent the sun from drying your cleaner on glass surfaces too quickly.
If available, do your cleaning in a garage or shop.
If using vinegar and warm water, use white vinegar, not balsamic. LOL.
If you have hard water, use distilled water in all cleaning solution mixes.
It's best to wash windows last. Clean the exterior, then the interior, then the windows. This will ensure a streak-free finish.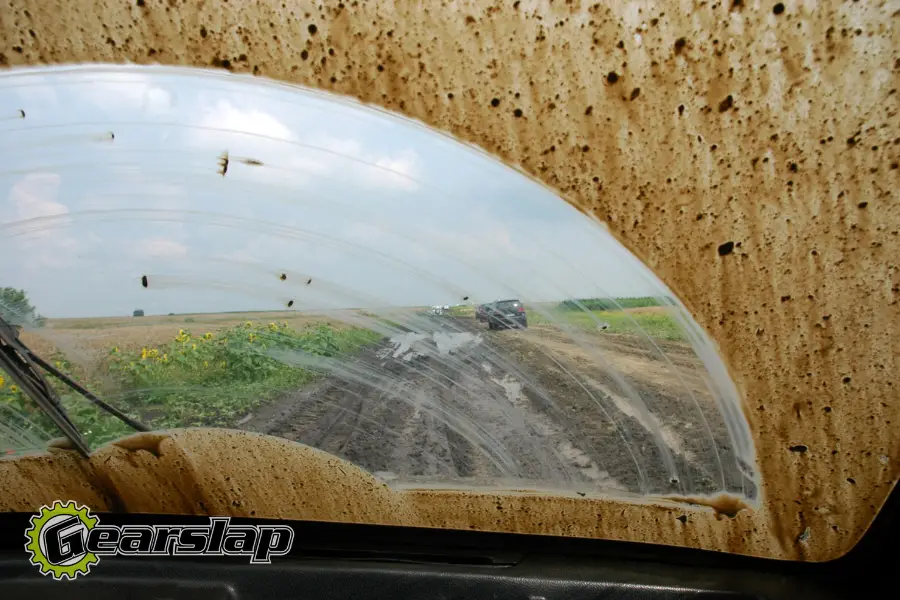 How To Clean Really Dirty Windows
Cleaning filthy car windows might take you a long time, but to speed up the process, there are some steps you should follow.
Before touching your car with a microfiber cloth or cleaners, you need to thoroughly rinse off your car with a hose or powerwasher.
Ensure that all clumpy dirt, mud or debris is removed before touching your car with a brush, cloth or sponge. (yes, I know we repeated it again… it's really important, so you don't scratch the car finish)
Spray an alcohol and water solution, vinegar and water solution, or an auto glass cleaner on the heavily dirtied areas and scrub them with a microfiber cloth.
After you clean these crusted areas, you can spray the cleaning solution on all of your windows. Do one window at a time.
Spray some solution on a window and wipe it with a microfiber cloth until it's dry. Repeat this process until the window is sparkling.
Repeat step four with all windows.
How To Clean Car Windshield & Rear Window
Cleaning your car's windshield is similar to cleaning its windows. Follow these steps to get a streak-free shine on your windshield (or your rear window).
Wipe your windshield inside and out with a dry microfiber cloth to eliminate any loose debris. Use a hose on the outside if there are stubborn dirty areas.
Use auto glass cleaner, vinegar, and water, or alcohol and water with a microfiber cloth to wipe down the exterior of your windshield. Repeat until there are no more dirt blemishes. Wipe down your windshield wipers too.
Use an alcohol and water solution to wipe the inside of your windshield to eliminate the greasy film. This happens from the sun, smoke, dirt, fingerprints, etc., and the alcohol will help break these things down and disinfect the glass.
After you wipe up the alcohol solution, spray your auto glass cleaner or vinegar and water solution on the windshield. Wipe it away and repeat the process until the inside of your windshield is sparkling.
We hope everything we mentioned will help you clean your windows better than you've ever seen. Either way, we tried to be clear…