When shopping for a new truck, it's probably easy to tell the difference between models. You might look for a light-duty Ford F-150 or scale up to a heavy-duty F-350. These models vary by gross vehicle weight, towing capacity and utility.
But within each model, there are variations in trim and appearance. This is where things start to get confusing. What is the difference between an XL and a LARIAT trim package? What about the Raptor or Tremor? Or is the FX4 a trim or an off-road package?
When I started looking for my latest truck, an F-150 FX4, I was confused by the different badges and trim offerings. I finally decided to go for the one that looked the best to me… but that lasted about a day before my curiosity got the better, and I took a deep dive into the world of Ford Trim Levels.
I, like many people, have wondered, "What are the Ford truck trim levels?" Keep reading to learn what to expect from each trim package Ford offers.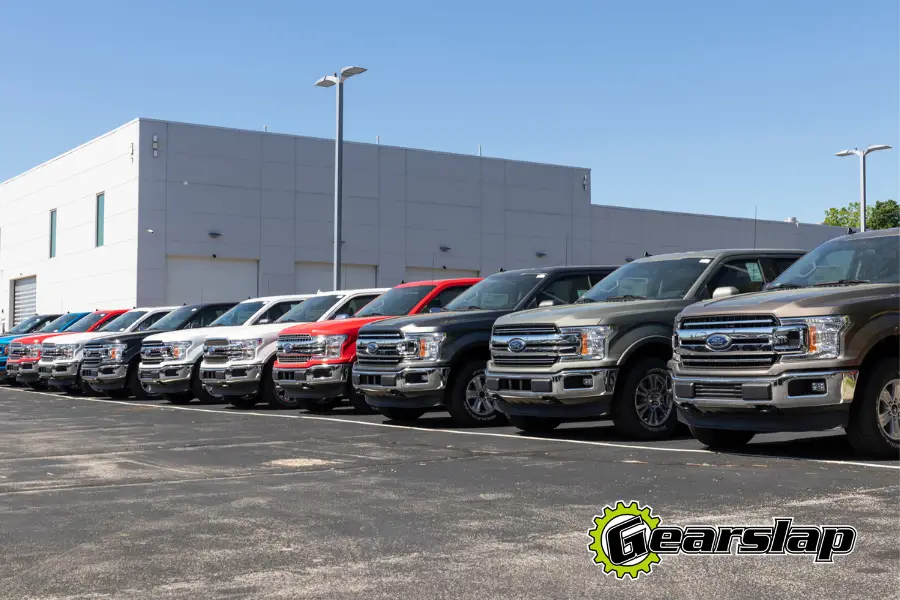 What Is a Trim Package?
A trim level refers to the features offered on any given automobile. They can include changes to the base model vehicle like leather upholstery or a more upscale sound system.
The trim package includes a bundle of related upgrades. A technology trim package might have a larger touchscreen for navigation and audio options. Premium packages consist of luxuries like heated seats and a leather interior.
Trying to understand trim packages adds a bit of confusion when you wonder, "How is that different from an appearance package?" Overall, trim packages are a general offering to broaden the appeal of a vehicle model. They elevate a base-level truck into one that's more appealing to people who need to tow heavier weights or want a more luxurious interior.
An appearance package changes the vehicle's looks only. You can have a base-model truck with an appearance package that lets you choose unique paint colors or accents. Appearance packages also impact the car's interior in fabric and color combinations. You could add an appearance package to any trim level to further customize your truck.
Most manufacturers offer four or five trim levels, according to Consumer Reports. The standard levels range from a base model to a premium option. Over the years, Ford offered many different trim packages depending on the vehicle type or limited editions. There are currently eight trim levels for Ford trucks.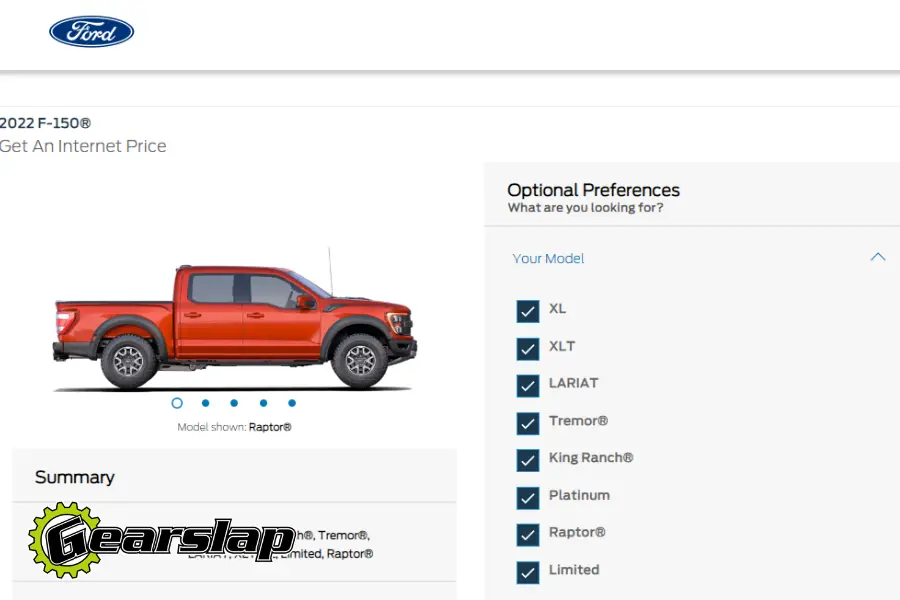 The 8 Ford Truck Trim Levels
As you're shopping for a new truck, you already have to differentiate between different models, so you might want to know, "Why are there trim packages?"
It's a way to get the exact vehicle you want.
There's no need to settle for a basic truck if you want something more upscale. Similarly, you don't have to drive a truck with a leather interior if you get muddy.
You already know the types of trucks Ford offers. So, what are the Ford truck trim levels? Read on to find out what trim levels they provide and what each option gives you.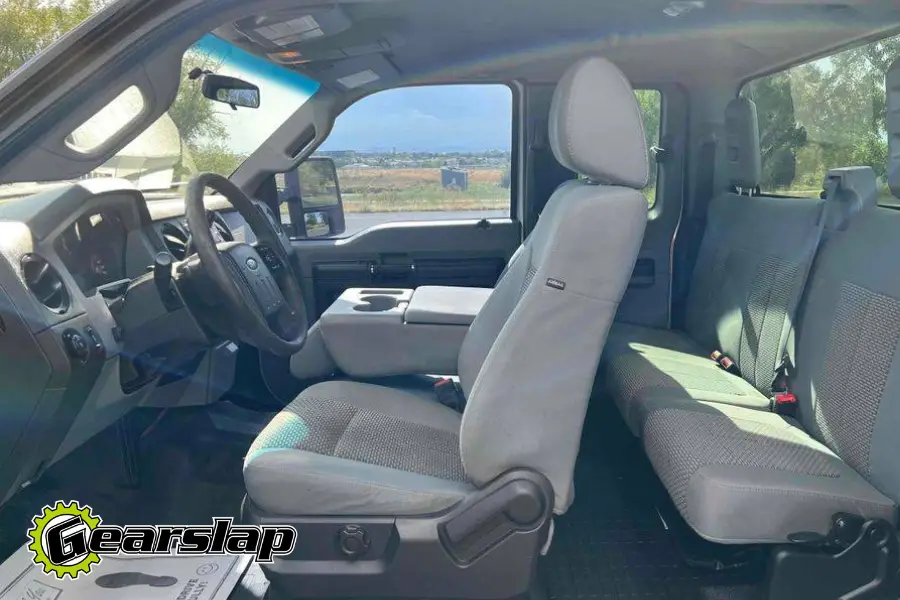 XL
This trim level sounds like it's offering many benefits, but what does XL mean on a Ford truck? XL is the base level of Ford pickup trucks. If you want a vehicle with no frills, you will start looking at any model's XL trim.
Newer models of Ford F-150 XL trucks have a lot of excellent features, so it's not like you're getting a stripped-down vehicle. You get an infotainment screen with XL trim, though it's smaller than more premium packages. The safety features are plain, too, but as technology improves, so does the baseline of any vehicle you might buy.
The standard engine on an XL truck is a decent V6, but it's not the end of the world if you need something more. You can always upgrade to a more powerful engine as an option instead of a trim package. This change is also something you can do on your own after you try the truck as-is.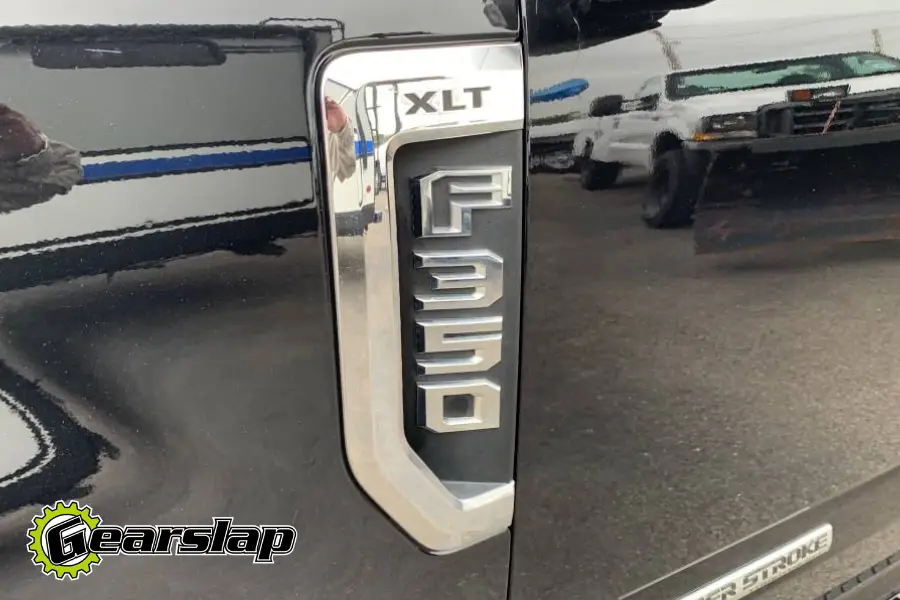 XLT
Now you know that XL is the base trim, so what does XLT mean on a Ford truck? If you're adding on to the base XL option, then what does T stand for in XLT?
While XL might make you consider extra large, XLT stands for "Extra Luxurious Truck." Ford trucks with XLT-level trim have a badge on the side that lets everyone know what you're driving. An F-150 XLT truck, for example, is a step above the base model, so your technology and safety features are better than you'd get from an XL.
The standard engine on an XLT truck is a V8, so there's no need to upgrade in that department. The engine alone is why many people opt for an XLT right off the lot.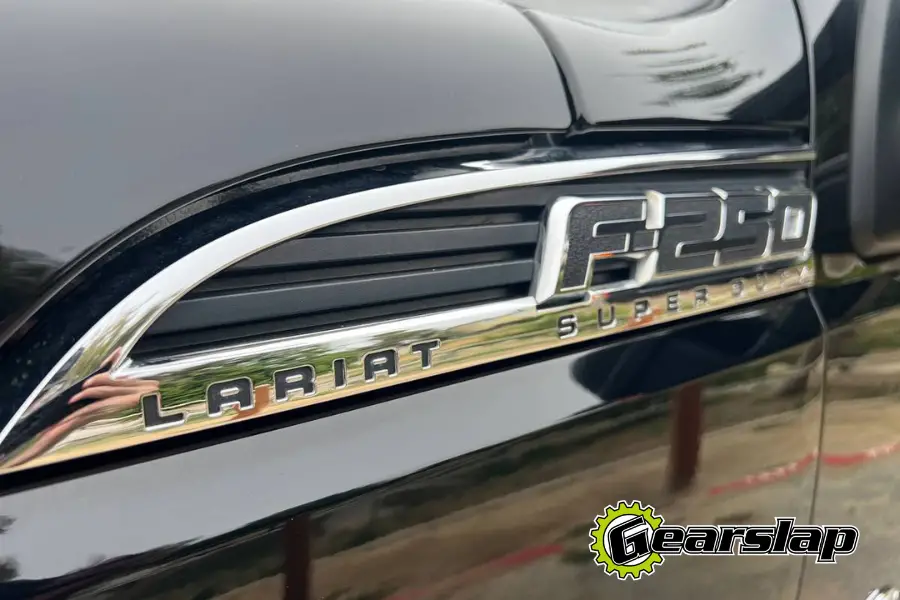 LARIAT
For people wondering, "What does LARIAT mean on a Ford truck?" the answer varies depending on the model you're checking out. It's the highest trim level for a Ford Ranger, so you can only choose from an XL, XLT, or LARIAT.
The LARIAT is a mid-level trim if you're eyeing an F-150 or above. It's a good option if you want a more upscale truck without paying the full price you'd have to fork over the top-tier trim. You'll get a powerful EcoBoost V6 engine with the LARIAT trim, and the interior is more luxurious than with XL or XLT.
This level is also where you see interior and driver assist features like adaptive cruise control, a heated steering wheel, a wider range of engine options, and other creature comforts.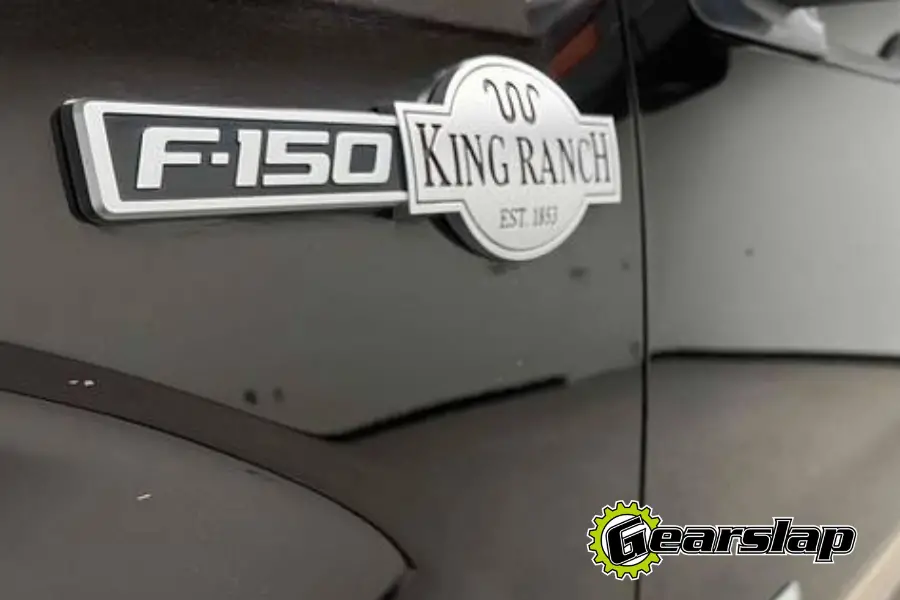 King Ranch
The Ford F-Series trucks have two mid-level trims: Lariat and King Ranch. As the royal name implies, King Ranch is the more upscale option. The truck not only looks better in terms of interior and exterior colors and materials, but it's also a step up in terms of performance.
The interior comes wrapped in leather. From the seats to the center console and even the steering wheel – you get lots of dead cow skin (leather).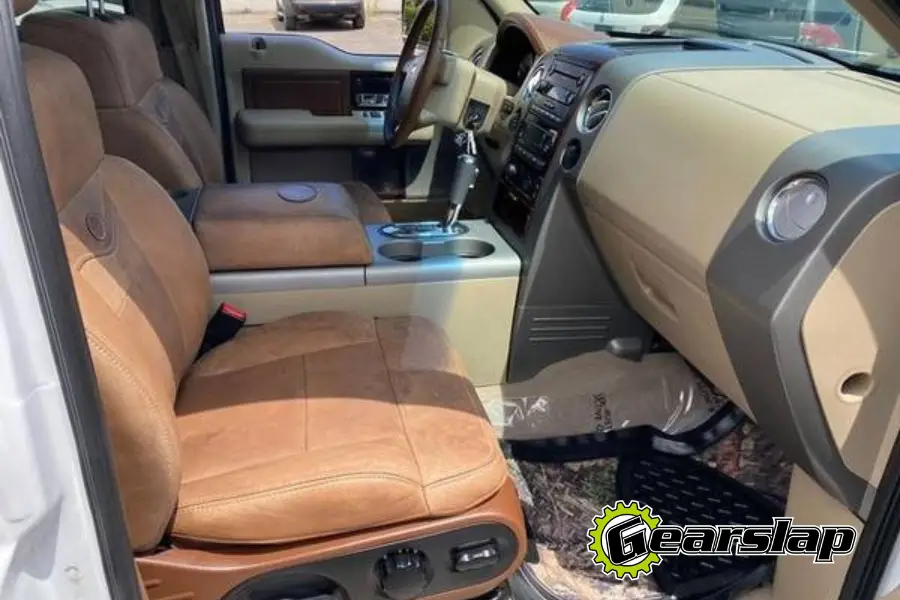 The sound system has well-placed speakers for high-quality surround sound. The heated side mirrors and defroster windows come standard, so you don't have to worry about scraping ice off your windshield in cold weather. You also get a leather-wrapped steering wheel, heated seats, and more.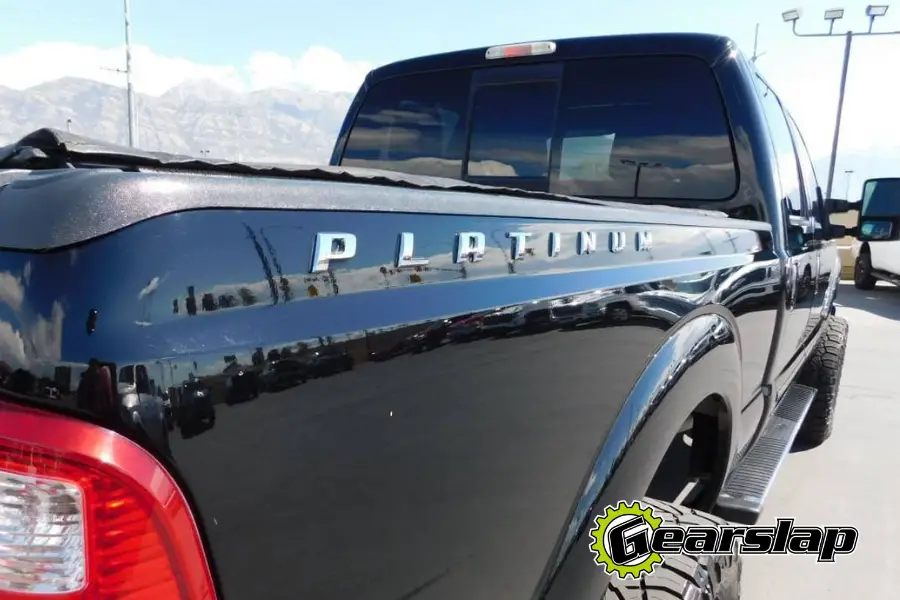 Platinum
As you climb the Ford trim hierarchy, Platinum is the first premium trim. If you want an upscale truck, you shouldn't look at anything less than Platinum. It's also the cap for many truck buyers because they don't want to pay more than a certain price, so the benefits beyond Platinum aren't worth the investment.
The V8 engine is standard with Platinum trim, whereas, on lower tiers, you'd have to upgrade the engine beyond a V6. The powerful engine means a truck with Platinum trim can haul up to 13,000 pounds, so many workers love both the strength and appearance of this truck.
Limited
When you realize the Limited trim comes with a V6 engine, you might wonder why it's more upscale than Platinum. However, the EcoBoost engine produces more torque than the Platinum and can tow 14,000 pounds.
The EcoBoost engine means trucks with Limited trim get better gas mileage than Platinum. If you're torn between Platinum or Limited for a work truck, the extra power from this trim is worth the money.
Interior technology on Limited and Platinum trim is fairly equal in terms of the touchscreen and sound system. But Limited offers more safety features regarding cameras, blind spots, and alerts for traffic and parking.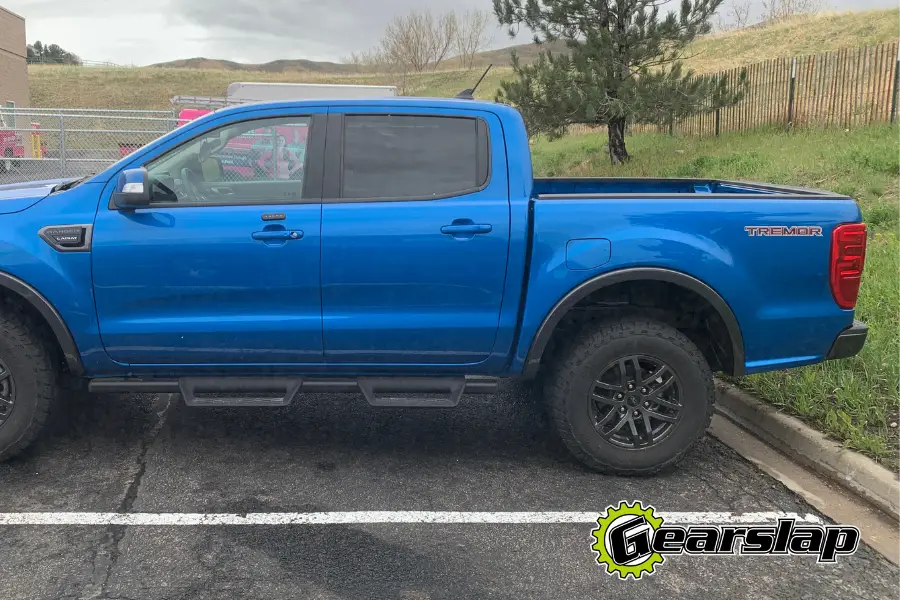 Tremor
There's some confusion about Tremor because it's a package you can add to a Ranger or Super Duty. But when it comes to the F-Series, Tremor is a trim package. Beyond that, you can choose from three distinct tiers: Standard, Mid, and High.
Most changes relate to the interior fabric, technology, and the size of the touchscreen on the interior. On the exterior, you get a lot of benefits that make it an off-road monster. You can check out our extensive write-up on the Tremor here.
All Tremor trucks include four-wheel drive and an EcoBoost V6 engine. These trucks are also more durable for off-road driving. If you're buying a Super Duty and add the Tremor package, you can choose from two different V8 engines based on your driving habits.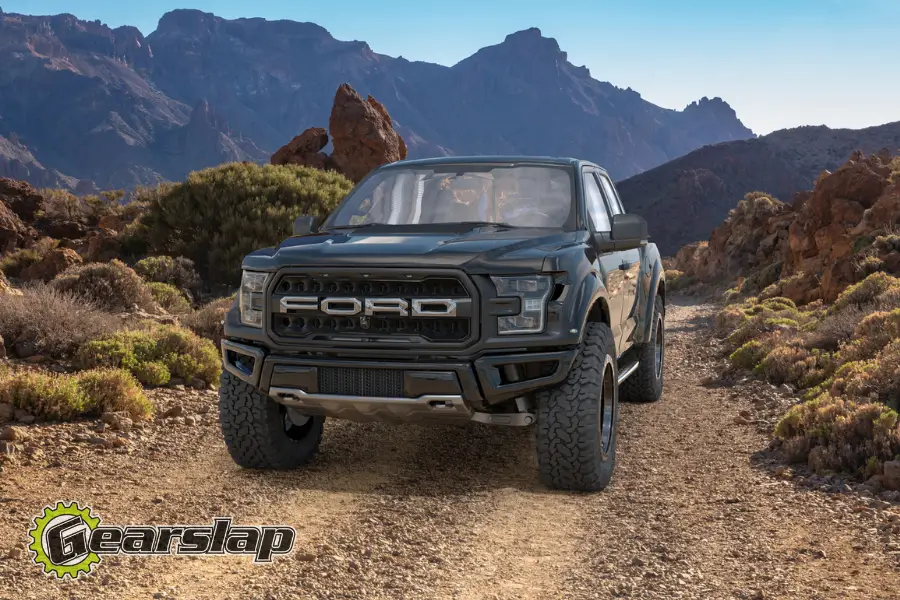 Raptor
Each trim tier offers more and more, but by now, you must be wondering, "What is Ford's highest trim on trucks?" Cue the Raptor package.
The engine in Raptor-level trucks boasts 510 pounds of torque distributed through a ten-speed automatic transmission for the most power. The all-terrain tires mean you never have to worry about getting stuck when off-roading. All the security features also keep you safe on highways and city streets.
As you might expect by now, there are different types of Raptor trims depending on the vehicle. Check out our overview of the Ford Bronco Raptor to get an idea of what this package offers.
Frequently Asked Questions
You've learned about the different trim levels Ford offers. If you need more information before buying your next truck, check out the answers to these frequently asked questions.
Is the Ford Lightning a trim?
No, Ford Lightning is an all-electric model of the classic F-150 truck. You can choose trim levels for this vehicle, including:
Just as some Ford vehicles have different trim levels, the electric offerings are also unique.
Which trim is better: XL vs. XLT?
The idea of better depends on how you use your truck and how much you want to spend. More upscale trim options add several thousand of dollars to your truck price.
XL trim has a V6 engine, a voice-activated infotainment system, and impressive safety features. An XLT, on the other hand, has a V8 engine, a larger touchscreen, better technology, and more safety features, like pedestrian detection.
Which trim is better: XLT vs. Lariat?
The Lariat is a more expensive trim option, so many buyers opt for the XLT. That trim offers a step above the base model without adding too much money to your price. Lariat is the highest trim for Ford Rangers but qualifies as mid-range for the F-Series trucks, which can help you make the right decision for your driving needs.
What is the FX4 Package, and is it a Trim?
In 2002, Ford introduced the FX4 package for its truck lineup. This package isn't a trim as much as it is an optional package for almost all of the Ford Truck trim levels.
FX4 badging replaced what used to be called the "Off Road Package." The "F" in FX4 stands for "Ford" and is pronounced "F – X – 4", not "F by four," as my son calls it.
The FX4 package will usually get you taller suspension, locking differentials, downhill assist, bold badging (stickers) and skidplates. The Ford website lists the following additions to your truck with this package:
31 Electronic-locking rear-axle with 5.0L V8 engine, 3.5L V6 EcoBoost® engine, or 3.0L V6 PowerStroke® Diesel engine
55 Electronic-locking rear-axle with 2.7L V6 EcoBoost® engine4×4 "FX4 Off-Road" bodyside decal
Hill Descent Control™
Off-road tuned front shock absorbers
Skid plates: fuel tank, transfer case, and front differential
Floor Liners – Tray Style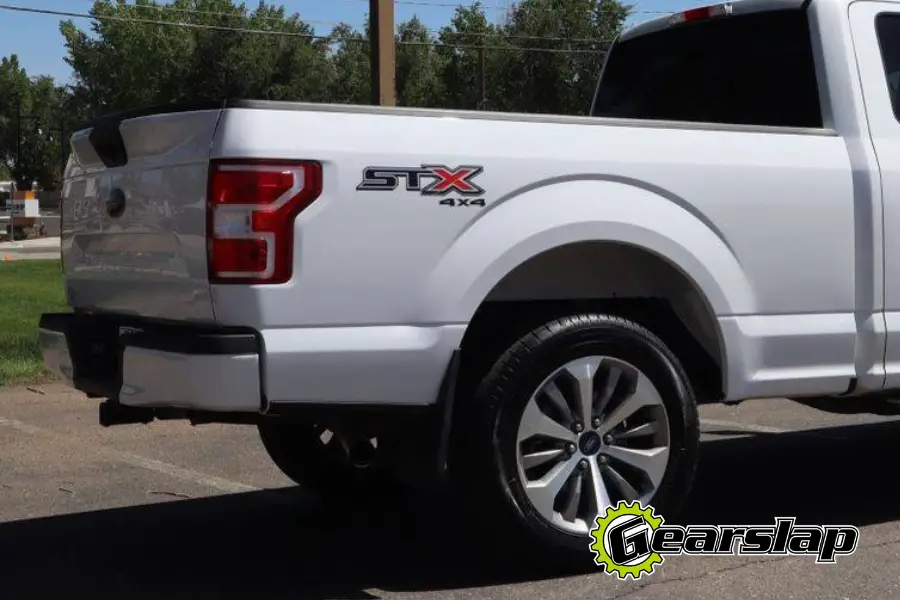 What does STX mean, and is it a trim?
Ford used to have a trim option called STX for sports trucks. Drivers wanting safe passage across rough terrain loved this package for its durability.
While it's not a trim option these days, you can select an STX appearance package for certain models. The differences are in the look of the wheels, bumpers, grille, front fascia, and fog lights. You also get black sports cloth seats and matching carpet to hide dirt better and keep your interior clean.