Let's talk about the Ford F150 SVT Raptor. It is considered by some to be more of a "show truck" rather than just an all-around daily driver or work truck. But that won't get in your way of enjoying it because this ride needs to be experienced, not shown.
This truck is awesome from every angle. Sure, it may not have a back seat, but it makes up for that with a fantastic bed in which you can store whatever items you need. 
Keep reading to learn all about the Ford Raptor.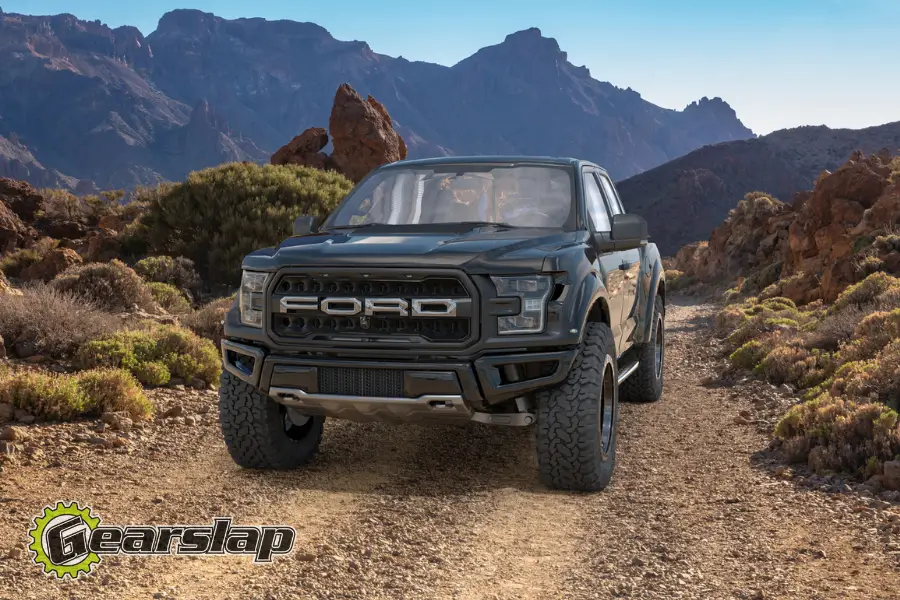 What is the Ford Raptor?
The Ford F-150 SVT Raptor is a high-performance off-road version of the Ford F-150. It features an aggressive, all-terrain front end with styling and suspension modifications that make it perfect for driving through and over any challenging and bumpy obstacles in your way. 
From there, power comes from a 5.4L V8 engine that delivers 310hp and emits a throaty roar when accelerating at full speed and another deeper growl while idling at a stop. As soon as you feel the engine growl, you'll know right away that your experience in this truck is going to be fun!
The driver's positioning inside the cabin is exceptionally comfortable, and there's plenty of legroom for those taller riders as well as those wearing boots or hiking shoes. The Raptor's exterior is very stylish and has a badass look about it as well!
When Was the Ford Raptor Introduced?
The Ford Raptor was first introduced in 2010. Below is the timeline of model years and packages offered by Ford.
First Generation Ford F-150 SVT Raptor
The Ford F-150 SVT Raptor was introduced in 2010 for the 2011 model and produced until 2014. The best part about this model is the 5.4L V8 engine that delivers 310hp. It also comes in a 6.2L V8. Both motors are combined with a 6-speed 6R80 automatic transmission.
Second Generation Ford F-150 Raptor
The second-generation Raptor was introduced in 2015 and produced up until 2020. It features a 2-door Supercab design with a 6.5′ box, which is the shortest of its kind in the Ford F-150 lineup.
It also comes with a 3.5L EcoBoost engine that delivers 450 hp and 510 ft-lb torque at 4,000 RPMs. It's paired with a 10-speed SelectShift automatic transmission.
In 2016, Ford created an even more powerful version of the Raptor by offering an optional Baja package that adds a D35 twin-turbo to the already incredible setup. It includes upgraded shocks from Fox Racing and factory upgrades from Ford Performance. If you want to go fast, the Baja package will get you there at 525 hp and 610 lb-ft of torque.
Third Generation Ford F-150 Raptor
The third-generation Ford F-150 Raptor started production in 2021. It features a signature 5.2 L Predator engine that delivers 760 hp with 625 ft-lb torque. This truck's suspension is phenomenal as well. It sits lower to the ground and can travel through nearly any bump or hole you may come across.
Features You'll Love
Aside from its sporty design, the Ford Raptor comes with traction control, front-seat side airbags, full-length side curtain airbags, and an electronic stability system.
Is It a Prerunner?
Ford F-150 SVT Raptor is a Prerunner. It comes equipped with high-performance off-road tires that hug the curves easily, improving your speeds around sharp corners or on uneven roads. If you're driving this truck and come across any bumpy road, you'll feel every single one. 
Surprisingly, the Ford Raptor handles easily even in rough terrain and gives you more than enough power to overcome them all!
You can add a roll cage, bumpers, and a long travel kit to transform your Raptor into your dream luxury Prerunner. You can do it yourself or trust Baja Designs to help you create an unforgettable Ford Raptor Prerunner.
Can You Race in a Raptor?
You may be wondering if you can race in a Ford Raptor. While the truck will perform incredibly stock, your competitors will have upgrades. 
With that said, you can race in a Raptor, but you have to do some modifications first before successfully competing with others. The aftermarket industry has plenty of stuff that you can choose from to help your truck perform better than ever. That includes performance parts such as cams, headers, cold air intakes, exhaust systems, and more.
What Are the Raptor's Price Ranges?
So, what's this truck going to cost you if you were to buy one outright? Well, If you plan on buying new, then expect to pay around $65,000. However, if you have your heart set on buying a used one instead, be prepared to dish out over $35k for an older model. 
That's not cheap, but keep in mind that this will all depend on the mileage and the condition of the truck.
Price tag aside, you should take a test drive for yourself if you have not yet done so. You won't regret it! Plus, who doesn't like fun?
If you want to take the Raptor out for a spin, we recommend finding a nice small trail just for fun so you can experience the power and handling of the beast.
Top Competitors
Let's talk about some of the Ford Raptors competitors.
Dodge Ram Runner
Let's start with the Dodge Ram Runner, which comes in two styles. The Hellcat model and the regular Ram Runner. The Hellcat model does 0-60 mph in around seven seconds, while the Ram Runner takes about 8.2 seconds to do the same runs. Both have similar speeds, so if you are looking for a tough ride against your friends, this could be it!
Toyota TRD PRO
The other competitor is Toyota's Tundra TRD Pro 4×4 pickup truck which also uses a 5.7L V8 engine like Ford Raptor (310hp). But their speed isn't comparable with Ford Raptors, who can reach 100mph in only 16 seconds.
Chevy Silverado
The Chevy Silverado (or GMC equivalent) is another competitor for Ford Raptor, but it isn't quite ready for the sport. It features a 5.3L V8. It can only do 0-60 in about ten seconds, and the stats aren't much different from the Tundra TRD Pro.