We recently wrote an extensive article about returning car batteries and how it works. In our case, the battery I bought at a Walmart on a cold night in 2018 was undersized for our car and we desperately bought it after sitting in a parking lot at a dance with a dead battery.
The Acura MDX had the technology package, which means that it had a significant power draw – this also means that the battery the clerk sold us was "undersized."
Almost exactly two years later, my battery died again. I was able to exchange it for an upgraded AGM battery at a different Walmart (because only some of them will allow you to return it under warranty and use the credit to buy a "bigger & better" battery.
There may be many valid reasons to need to return a battery, and several of those reasons may fall under the battery's warranty.
If you get your battery home and it just won't hold a charge or if it has damage, these would both be warrantable situations.
But, if the battery is the wrong size or the posts are in a different location than your old battery, this would be a "return & replacement" situation. Hopefully, you found out you got the wrong one before you install it as it will make it easier to return.
However, check out the article mentioned above for strategies to return a car battery.
But if you get a "bad battery" and need to return it while it's still under warranty, you'll want to keep reading to learn more about it.
Every car has a battery, and once in a while, it will need to be replaced. However, if you have a new car or a new battery, there is a chance your car battery will be under warranty. Here's how to tell if your car battery is under warranty and what it means for you.
Most car batteries have two warranties. One from the retailer and one from the manufacturer. If your car is new, you probably have a new car warranty that it would fall under as well. There are options for getting your bad battery replaced.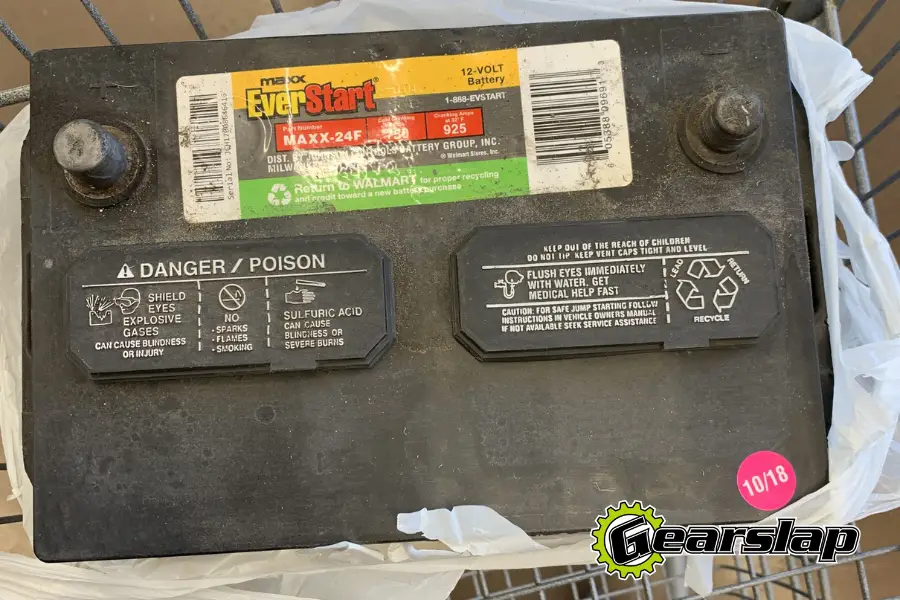 How to Tell if Your Battery is Under Warranty
Each battery will have its date code printed at the top of the battery. Most of the time, it's printed on a sticker – like the pink one in the image above. The battery in the photo was "produced" on 10/18. That means October of 2018.
The number sticker on the battery will show the production date in a month/year numeric format.
You will be able to tell very easily if it is still under warranty from this code. Most car batteries will come with a warranty anywhere from one to four years in length, and some will have a store warranty on top of that timeframe. 
On some batteries, there are four digits on the top of to pay attention to. The first will be a letter; usually, a P or S. The second two digits will represent the month, the third digit will be the year, and the last digit will indicate the manufacturing plant. 
For every car battery you buy, make sure you keep the receipt. This label also lets you know if your car battery should be under warranty.
What Is Covered in Most Warranties?
If the battery is defective and stops working while it is still brand new, it will most likely be covered under warranty. Each battery has a specific warranty period, such as 12 or 24 months. Each receipt will have the warranty details attached. You will need to read through this carefully. If it has been a few years since you bought the car battery, it may no longer be eligible for a warranty.
Do Different Stores Offer Different Warranties?
Many stores will carry different car batteries, and each manufacturer has its own warranty terms. All of them may have slightly different warranties. The best way to find out if your car battery is under warranty is by looking at the receipt and asking the salesperson for more information. You can also check any warranty information printed on the battery itself.
Costco is known for excellent customer service, which goes all the way to their car services. The best thing about Costco is that any car battery purchased from this store will be under warranty for 36 months. A car battery should last between 3-5 years if properly made and taken care of. Keep in mind this is a limited replacement warranty. If they find you were at fault, you may not be covered by the Costco warranty.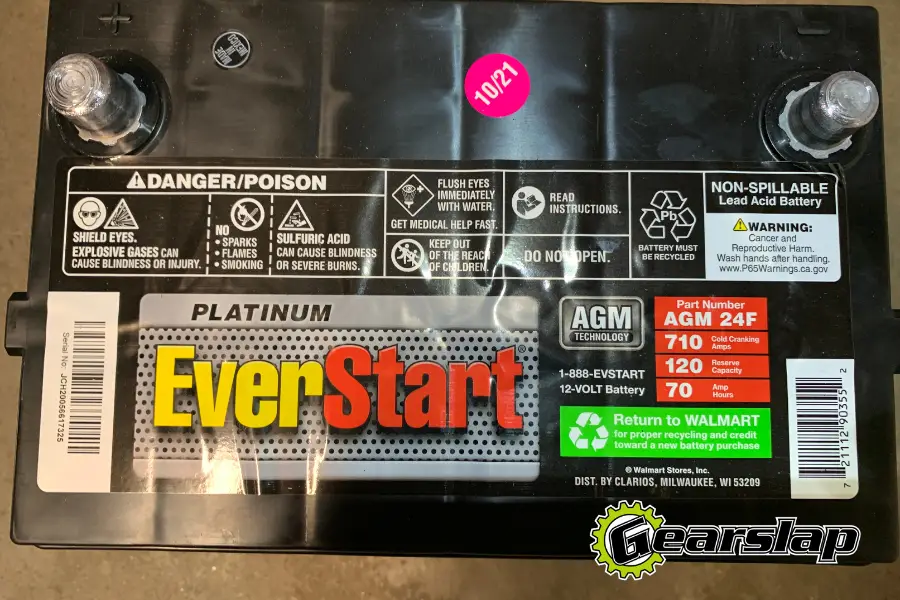 Walmart is not only a good place to buy a new battery but will also help you dispose of your old car battery correctly, too. To claim the warranty, you must visit a retail store with an auto shop attached. You will explain the problem with the battery and let the technician check the battery for faults. If it is not your fault, your battery may be under warranty for up to three years with Walmart. This is an incredibly long time compared to most other companies.
Almost every battery listed on their website will detail the warranty period and have some links to Walmart's warranty policy.
Autozone is one of the best car shops you can go to and another place that will take your old car batteries and dispose of them properly. However, the warranty is a bit more strict than other companies. If a defect is found within the warranty period, only a credit will be applied to the new battery you purchase. The credit may or may not be enough to cover the expense of a new battery, depending on the make and model you need.
I'll be honest. When I started this article, I didn't even know that Amazon sold car batteries. I had assumed they'd be too heavy to ship (or the shipping would be astronomical). But, I was surprised to find that you can buy many name-brand & generic batteries from Amazon.
You may be tempted to buy a car battery from Amazon based on convenience. However, be aware that the car battery warranties will vary because the batteries come from different sellers. Under each description, you will need to see if the product comes with a warranty and what the warranty means. Amazon is great for quick shopping and fast shipping, but it may not be the best if you want to have some type of warranty on a product.
How to Exercise a Car Battery Warranty
First, the second you notice problems you think are related to the battery, you should take it into the shop where you purchased the battery. You will need to explain the problems, have the information about how old it is, and the receipt for the purchase date, and then you will need to allow the technician to look at it. They will determine whether or not you will qualify for warranty coverage.
Frequently Asked Questions
How do you know if your car battery should be returned under warranty?
The average car battery warranty will last between a few months and up to three years. However, each company will have varying policies, and you will need to pay close attention when purchasing your car or truck battery.
How do you know when a car battery is not working?
You will notice dim lights in the car, a slow starting engine, and a check engine light will be one. There also may be a weird smell coming from your car. All of these are signs that the car battery is not working correctly.
How to know what kind of car battery to buy?
Each car should come with a manufacturer's guide or a book on the car. In this book, you will be able to find the make and model of the battery you need. Take that information to the store, and they will help you find the most suitable option that will work for you.
How long should a car battery typically last?
Although Costco claims a car battery should last between 3-5 years, the truth is many car batteries only last between 3-4 years. If you are driving regularly and taking care of your car, it may last longer.
However, if you drive long distances and don't take care of your car, it may last less than that. If a technician thinks your battery is dead because of something you did, you may not be covered by a warranty.
Either way, if you get unlucky and find yourself with a bad battery, it's a good idea to understand how your warranty works so you can get back on the road quickly.
Knowing how warranties operate will give you a jump on getting a replacement.