When you watch an auto race, at the track or on TV, do you wonder why those drivers get to have all the fun? And they're paid for it, too! While you might never earn their money, you ought to be able to get a taste of their excitement.
So, can you rent a race car? Can you discover what the racing experience is all about without saving up your nickels and dimes for a pricey set of speedy wheels?
As it turns out, you certainly can! You can rent and race everything from F1 and NASCAR cars to Baja Buggies, Trophy Trucks, Supercars, and Classic Hotrods. The experience you can expect from renting one of these racecars ranges from ride-a-longs to solo, all-out racing.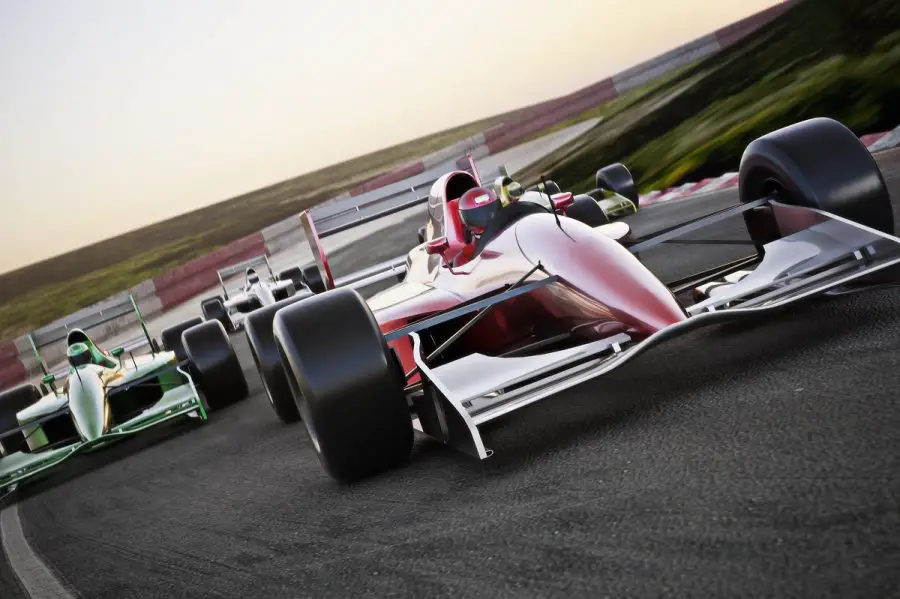 After a brief history of why I decided to research and write this article, we have a huge list of the different types of racecars you can rent & drive – yes, REAL racecars! – and where you can find them. If you've ever wanted to drive a racecar, you'll want to check out this list.
But first, here's a little story…
A Tale About Fantastic Racing
I was first introduced to renting race cars while in Las Vegas, Nevada, for a Best in the Desert race. We were invited to work on the pit crew for a buddy who was racing his motorcycle through the desert.
As we drove through the city, we saw some supercars going around a track with a sign that said something like "race a supercar". My curiosity was piqued.
While driving toward Reno that same weekend, we saw another sign that said "come drive a trophy truck". What was with this place?!? After a bit of research, I found that there are racecar rental places all over Nevada – and around the world.
My research lead me on a chase all over the internet looking for companies who specialize in renting out supercars and real, actual, racecars to the general public… for entertainment! I was hooked. I knew I had to experience all of them.
Once I had added "Learn about and drive ALL racecars" to my bucket list I was on a mission (coincidentally, that bucket list item is what lead to GearSlap in the first place – but that's a story for another day).
Around that time, we were planning a trip to South Africa. We were going to experience everything as a family and one of the planned stops had to be driving racecars. We visited the tourism sites for several cities and the name that kept popping up was Fantastic Racing.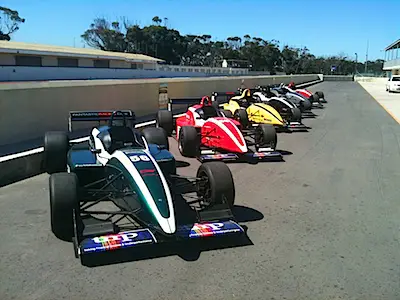 Fantastic Racing was well known in the Cape Town area as the destination for racing F1-style cars on a real racetrack – the Killarney race track specifically – and several others in the country.
The experience has been well documented in newspapers and on private blogs. It looked like so much fun. The cars were fast and real. It was like racing go-karts, but for grown-ups.
Unfortunately, COVID happened.
Our plans were "changed", and it looked like Fantastic Racing was heavily impacted. You'll notice that I keep talking about FantasticRacing in the past tense. That's because when I visited their website recently I found a blank page (if you found this article after clicking on their site, you may be curious as to what happened to them and why you're here – it's because I bought the domain after I found that it was closed because I wanted people to know what happened to them.)
So, What Happened to Fantastic Racing?
It was closed. Sort of.
When things started to open up in 2021 I began researching to see if we could pick up our planned trip. We still wanted to take the trip of a lifetime and race cars – but did Fantastic Racing actually succumb to COVID – like so many people and businesses throughout the world?
At first, I was sad to think that they had – I mean, how could a company like that stay open during a pandemic. It made me sad, and a little angry to think they were gone.
But, it turns out, they weren't gone. As far as I can tell, they just rebranded as "Ultimate Driving Experiences". They still use the same tracks, but they have different cars – which look to be better – with more options.
If you're in South Africa and looking for a way to race cars for a corporate event or to cross off an item from your bucket list, you should check them out. And maybe we'll be there at the same time and be able to race each other.
For everyone else not going to Cape Town anytime in the future, we have an epic list of different racecars you can rent – pick one that fits your needs – or try them all.
That's what I'm planning to do!
Now, let's get back to whether or not you can rent a racecar.
Racecar Rentals for Everyone
You might not be able to pick up a Formula 1 McLaren at your local Hertz counter and zip around traffic on the interstate. However, if you head out to your nearest NASCAR track, you'll find an opportunity to get behind the wheel of something more exciting than what you drive to work.
If it's been on your bucket list to barrel down the straightaway and scream through the turns just like professional drivers do, you don't have to buy your own car or take years learning how to drive it.
You can spend a day getting some instruction, familiarizing yourself with the vehicle, and trying your hand at zooming around the oval. You can have a brief session for a few hundred dollars or spend thousands on a multi-day experience you'll never forget.
Track racing isn't the only game available. There's also rally car driving and several varieties of off-road driving. So, strap on your helmet, fasten your seat belt, get out your credit card and let's look at some of the available choices.
Why Rent a Racecar?
A better question might be, why not? Maybe it's on your bucket list, and you've promised yourself you'd do it one day. Possibly you've thought about racing as a hobby but don't know how to get started. Perhaps you're just looking to improve your overall driving skills.
Maybe you're just yearning for a weekend with more excitement than watching TV and cutting the grass. Or you want a "Guy's Trip" activity with all your high school friends.
You don't need an excuse. Any reason is a good one.
We've come up with a few reasons why you may want to rent a race car:
For the Experience – Whether you're a thrill-seeker or just curious about what it's like to drive one, renting a racecar would be a great and inexpensive way to scratch that itch and satisfy your curiosity.
Cheaper than Buying – as you'll see below, one of the rental options offered by several companies is a variation of "Arrive & Drive". This method allows you to race a car but not have to buy it outright. That way, if you don't like it you aren't stuck with it – and you don't have to buy everything that goes with it. It's an all-inclusive program in most cases.
Try Before You Buy – If you think racing is something you want to do long-term, then renting a racecar is a less costly way to trial the career. This way you know if you like it.
Teambuilding Activity or a Company Outing – when I worked in the corporate world, we went go-karting. It was fun, but racecars would have been WAY better. Many of the rental companies listed below offer programs for corporate events. Companies sometimes sponsor racing as a team-building activity.
Charity Events – Some rentals come in the form of a ride-a-long with a professional driver in a professional car. These are usually for some charity event or fundraising activity. You may not be able to drive the car – but maybe you don't want that level of experience anyway. In some cases, for the right amount of money, you may be able to drive and the money goes to a charity instead of a business.
Learn How to Race – if you've decided that "Racecar Driver" is what you want on your resume then you should probably attend a school program, so you get it right. Many of these schools give you the option to rent a racecar or rent track time to practice – schools like O'Neil Rally School will have cars for rent while you learn how to race. (check out our article that answers if you can rent a racetrack).
Types of Racecar Rentals
When you think of racecars, possibly your first image is of a driver all alone in the cockpit, just them and their machine. And that's certainly a popular type of racecar rental. You can drive by your lonesome, zipping around a track against the clock.
With some rentals you can actually race, sharing the oval and trying to pass other drivers.
However, that's far from the only configuration available. You can ride with a pro in your passenger seat who will watch your technique and offer advice. If you're not ready to take the wheel, there are ride alongs where you can start by being the passenger and watching how the veteran drives.
Many venues conduct High-Performance Driver Education (HPDE) either as part of the rental package or as a separate offering. You can take the class in a racecar or use your own vehicle if you're more comfortable that way.
You can do an "arrive and drive" and reserve your speedster for an hour, several hours or a whole track day. If you're taken by the sport, racecars rent for longer periods, even for an entire racing season.
There are guided tours, particularly for rally car and off-road rentals. You might spend all day, or several days, driving as part of a group. There's even the equivalent of Airbnb for exceptional cars, websites that connect private owners with would-be renters.
Just from this list above, you can see that are many different options. Which one is the right one?
Whichever one meets your goals. If you want to drive in an actual race, there are rentals for that.
If you just want to sit in the car as it makes a couple of laps around a track – there's some of that as well.
Before You Make the Race Car Rental Reservation
By now you might be ready to plunk down your dollars and reserve your seat, but there are few things to stop and think about.
Physical Risks
One is danger. Race rental companies do everything they can to make the adventure as safe as possible, but driving fast in a vehicle is inherently dangerous. You can get hurt. You need to recognize this possibility.
Property Risks
It's also possible to damage property. Even if you do everything right, somebody might kiss your quarter panel and send you into a wall. The renter won't accept "it wasn't my fault" as an excuse. They usually require everyone to pay a large deposit or purchase liability insurance in addition to the rental fee. Track insurance is generally under $50. If you're not covered, don't get in the car.
Skill Level Risks
Experienced drivers have an edge, but if you're an ordinary driver with average highway skills, you can drive a racecar. However, you might not want to hop into the fastest and most aggressive racer right away. Some venues will evaluate you and offer different experiences for different skill levels.
Some forms of racing require a stick shift, but others don't. On a track, rental drivers are often faster with an automatic than with a manual.
What Kind of Vehicle do You Want To Race?
Are you looking for a racecar experience such as NASCAR or Formula 1, or do you want to go bumping through the desert in an open frame? Maybe your answer is "all of the above." TrackDays in the UK offers a "try 'em all" menu with supercar, rally car, racing car and off-road.
Here are some options for your first experience with a speed car adventure.
Road and Track Racecar Rentals
Racecar rental has been around for a while. In the 1960s, you could rent a Shelby GT350H on Friday, race it all weekend and bring it back on Monday. Today, there are lots of companies eager you rent you a ready-to-go racecar. Many of them have arrangements with major racetracks around the US. All you have to do is pick your track and show up ready to go fast.
Stock Car & NASCAR Experiences
Short-track racing has been around since about the 1930s. The dominant American form was stock car racing, which theoretically involved cars you could buy off the lot. Today NASCAR dominates that racing style and the cars are so highly modified that the words "stock car" no longer fit.
The NASCAR Racing Experience is offered on over a dozen of the famous tracks the pros race on. It's solo behind-the-wheel driving with a spotter talking to you via radio. The sessions last five to 40 minutes and run $200-$2600, depending on the track. It includes an orientation, and it's real racing with other drivers and passing allowed.
The Rent a Racecar program at Stafford Motor Speedway in Connecticut puts drivers through a practice session, a qualifying race and a 20-lap event. Rentals start at $600 plus a $500 damage deposit.
The Rusty Wallace Racing Experience takes place at over 80 tracks in the US and Canada. Prices range from $200 for a 5-lap "taste of speed" on a short track to $3700 for a 50-lap "race day" on a speedway of 1.5 miles or longer.
Want to Rent a Formula 1 Car – You Can!
There are hard-core aficionados who insist it isn't real auto racing unless it's Formula 1, also called Grand Prix. It takes place mostly in Europe and features the fastest course-racing cars in the world. They have tremendous cornering speed because they're designed for aerodynamic downforce.
TrackDays offers 6-12 laps on several UK courses in cars such as Formula Renault, Formula Ford and Formula F1000. If you've ever wanted to go zero to 60 in 2.7 seconds, this is the high-speed ride for you.
Can You Rent a Drag Racing Car
If you like G-force, you'll like drag racing. Ride 800 horses on a quarter-mile screamin' journey and reach speeds of over 100 MPH.
Pure Speed Racing offers dragster rentals at dozens of tracks throughout the US. Cost is $200-400 for one to four runs. You can drag solo or opt for a side-by-side competition. The extreme package consisting of six runs with super launch and burnout starts at $2000.
Doug Foley's Drag Racing Experience in Mooresville, NC, conducts a half-day package with orientation and two or three runs. Prices start at $349, and they cater to groups.
Renting an Autocross Vehicle
Autocross is a skill and agility form of racing done on a course with obstacles, usually marked by cones. You can autocross in any car but some are better than others. Most serious autocrossers use modified stock cars, but there are specially built autocross machines. The Sports Car Club of America (SCAA) sponsors some events, and if you want to try it out, bring your own car or rent one more suited to the sport.
You Can Rent a Drift Car!
Drifting is a sport where you win on style points as much as speed. You oversteer and "kick" the clutch so as to lose traction yet maintain control. Drift cars are usually lightweight with rear-wheel drive.
At U-Drift in Las Vegas, you can rent their car or use your own, as long as it's rear-wheel drive with a stick shift. Instructors are available, and you can run the course or just play around with donuts and burnouts.
Rentadriftcar.com is a full-service European package that picks you up from the airport, shuttles you to the track and supports your drift experience with a full team.
Prefer Just Two Wheels? Racing Motorcycle Rentals
You can "arrive and drive" on a motorcycle as well as a car. Track Bike Rentals in Oakland Park, FL, has Ducatis, Kawasakis and Yamahas. Bikes rent from $300-700 and coaching is available for a fee.
Penguin Riding School in Winchendon, MA, has race-ready bikes such as Kawasaki Ninjas at $250-600. They also conduct a one to three-day racing school.
Renting Supercars & Exotics
These are the cars for rent that most people only dream of, such as Ferraris, Lamborghinis and McLarens. Also Corvettes, Porsche 911s and Shelby GTs.
Xtreme Xperience offers race track experience in these exotic vehicles in 35 American cities. You can take one of the world's speediest cars out for 3-4 laps and drive as fast as you dare. Packages start at $238 (plus insurance) and include an orientation. They also offer one hour to six day road tours starting at $399.
Exotic Racing in Las Vegas maintains a track to Formula 1 standards. Five laps in a supercar costs $300-$450, and there's a discount if you want to try more than one model.
Renting Off-Track and Off-Road Race Car
Pavement is great, but sometimes you just have to blaze your own trail. There are several rental options for those who want to leave the asphalt behind.
Can You Rent a Rally Car
Rally racing is done on roads of a sort. Some are paved and some aren't. They are usually on closed public roads or private roads. Vehicles are modified stock cars. They're chopped down to make them light, then roll bars, chassis reinforcement and a modified engine are added.
Team O'Neil Rally School conducts one to five day courses in rally driving at their facility in New Hampshire. They maintain over 70 rally cars, and courses run $1600-7000.
DirtFish Rally School, in Snoqualmie, WA, offers two-hour sessions at $500 and one to three days at $1399-3999. They also have accessible vehicles with automatic transmission and hand controls.
Renting a Baja Truck
Baja racing is an off-road competition, often through a remote desert area. It's more formally known as "desert racing" by those who actually drive it, but most people know it as "Baja Racing". That's mainly because of the most famous, and grueling race held by SCORE International, the Baja 1000.
Therefore, if you want to rent a truck that races in "Baja racing" you would want a "Baja truck" – the reality is that there are several different styles of Baja vehicles. We explained all about Baja Trucks in this article a few weeks ago.
Okay, I'll get off my soapbox about what these racecars are actually called and just tell you if you can rent one.
Wide Open Baja, in the San Diego area, maintains Baja cars to provide customers with the bumps and thrills of the Baja racing experience. A group is led by a guide, but individuals may drive fast or slow and hit bumps or go around them. You can reach speeds up to 70 MPH in rugged and challenging wilderness terrain.
Trophy Trucks
A trophy truck, sometimes called a Baja truck or a trick truck, is a truck used in off-road racing. Brenthel Industries, a Temecula, CA, truck builder, offers an arrive and drive adventure in one of their vehicles. It's a desert ride that simulates major Baja races.
Other Off-road Vehicles
There are small rental outfits all over the US that specialize in off-road vehicles such as ATVs, UTVs, motocross bikes and dune buggies. They're in every state and it's almost certain that there's one close to you. A typical ATV rental is about $125-250 for part of a day and not much more for the full day.
There are multi-day rentals, ATV and motocross tours and about any kind of backwoods bump-jumping driving experience that you can think of.
In addition, there are off-road racetracks. The Las Vegas Off Road Experience is worth a peek. They boast a one-mile dirt track and rent dirt trucks, dune buggies and Razors, which are side-by-side ATVs. Packages start at $374.
Take Me Back: Classic Cars & Muscle Cars
To a lot of people, the 1950s through 1970s were the golden age of American automobiles. Cars such as GTOs, Challengers and Chevelles had mean-looking grills, smallish back seats are monsters under the hood. Today's cars have them beat in reliability and gas mileage, but they aren't half as cool. Can anything modern match the sensuous curves of an old Monte Carlo?
Sites such as Hagerty Drive Share connect owners with renters who want to revel in what automobiles used to be. Recent listings showed a '75 Corvette, and '66 Mustang and, for those who want a more luxurious ride, a '68 Cadillac DeVille. Rentals run from a few hundred to around $1,000 per day. The owners probably don't want you racing them, but if you wind them out and find yourself just a pinch over the speed limit, who can blame you?
Which type of car will you rent?
This article was a high-level overview of the types of racecar rentals that exist as well the different forms of auto racing you can experience. Even as a summary, you can see that are almost endless possibilities!
If I plan on racing every type of racecar before I die, I have my work cut out for me.
Maybe some of these places will have some extra hours in a day or a gently used Soul they can rent me… and I don't mean a Kia!