Auto racing has become one of the illustrious careers for many people; this could be you as well. Every year, this popular sport that attracts millions of viewers can be a bedrock of success for any ambitious racer with no money. In 2020 alone, Formula One achieved more than 11.4 million live views.
If you're an avid auto racer, chances are you will need a contingency program to advance your career. Are you wondering what a contingency program is? Well, I've put together this article to make things a tad clearer for you. It will give you a super-speedy rundown of just some of the things you need to know about contingency programs.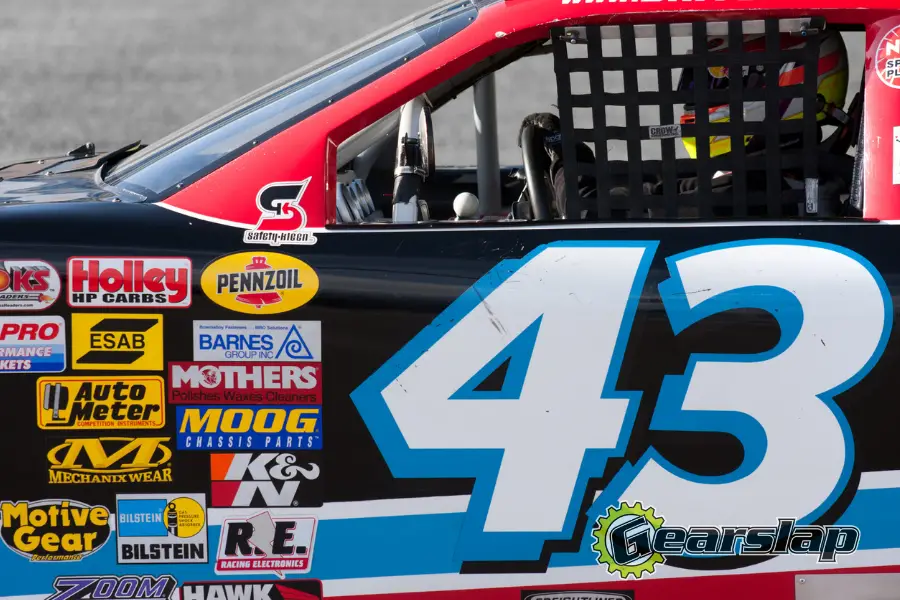 But I'll kickstart this topic by answering this crucial question:
What is a contingency program in auto racing?
You may have gone to a race check-in and heard the terms contingency program or contingency award – I know I heard about them for the first time when my team was registering for the Best in the Desert Parker 425 race.
The simplest definition of a contingency program in auto racing is:
A form of sponsorship whereby race teams place decals on their race car (or motorcycle, UTV, ATV, buggy or other race vehicles) in exchange for products or cash racer rewards. Top manufacturers of tires, brakes, car retail outlets may forge partnerships and award racers.
You can look at a Contingency Partner or Contingency Progam as a limited sponsorship for select events that come with some form of racer rewards – you usually have some requirements involving brand placement (using Contingency Decals & requirements) and have to fill out contingency forms during registration.
But as a racer, you'll only benefit from one of those programs if you sign up with the contingency sponsors (aka – the brands who offer contingency bonuses for placing logos on your race vehicle).
For instance, if you want to become a Mazda racer, you'd need to enroll in the Mazda Team Support Program to be accepted as a member. Additionally, you need to send a photo of yourself in a driver's suit showing the Mazda logo embroidered in the pocket area.
Likewise, if you want to receive racer rewards and free products from motor oil manufacturing giant and race series sponsor, Lucas Oil, you'll have to apply, meet the requirements and finish the races required.
Racing in the United States often brings bigger contingency bonuses from contingency partners.
Are there contingency programs in all motorsports?
If you're wondering if there are any racer rewards from contingency sponsors in all motorsports, I've got good news for you. There are plenty of them. All you have to do is choose the contingency program that will accelerate your 'fast and furious' career.
While automobile racing requires you to be prepared to start at an amateur level, if you're determined enough, you'll find yourself competing at a top-tier level, of course, with the right contingency programs fueling that success.
The other good news is it is still possible to make a few bucks while racing in the United States and cover some of your racing costs through a contingency program, even if you are an amateur. 
If you're a road racer, desert racer or drag racer competing in a car, on a motorcycle or in a UTV/ATV, you can expect there to be racer rewards in many of the popular racing series and feature events thanks to contingency programs.
What do you usually have to do to qualify for a racing contingency?
There are a couple of things that you need to do to qualify for a racing contingency. To be eligible for a contingency program, you need to meet three requirements:
RACE – In all cases, you need to be a racer or have a race vehicle
Registration – you need to go through the process of contingency registration.
Placement / Race Participation –  there are usually some stipulations regarding the placement of contingency decals, competing in select events (or a set number of events in a popular series) and often there are requirements for placement.
If your application is accepted, you will typically receive a contingency program pack with stickers, decals, posters, patches, and some instructions on how you should promote the brand. The racer rewards you should expect to get could be freebies, money, discounts, and sometimes even credits.
Typical rules that you should expect:
Only motorcycles or racing cars containing a genuine identification are considered eligible.
The logo and plastic components should be visible on the racing car (or motorcycle) for contingency eligibility purposes. 
Winnings are usually issued once the race promoter's results are captured and validated.
If you apply for amateur class contingency, keep this in mind: all your awards are usually redeemed at participating dealerships. 
Expect program details to change without notice.
It is common for there to be featured events within a racing series where additional racer rewards and bonuses are awarded.
Some programs payout bonus racer rewards for completing an entire racing season.
Cash Payout awards are usually done according to payout schedules that are set at the beginning of the season.
What are some contingency examples?
There are many examples of contingency programs out there that you can explore. For instance, The Best In The Desert contingency programs boosts a whooping $3,500,000 posted in cash awards, products, and gift certificates. There are other similar well-paying contingency programs by top manufacturers for ambitious racers like you. 
Another excellent example of contingency programs for auto racers is NASA Nissan racers, which have been running for several years. There are many benefits of signing up. As a racer, you'll earn redeemable credits if you purchase spare parts. There are also prizes up for grabs for a total of $1,500. 
You can also consider the NHRA Contingency program, a marketing partnership that pays thousands of dollars to competitors for the entire season. Plus, when you win a race, you will stand a chance to win products from manufacturers—no need to pitch and hustle manufacturers for a sponsorship. 
All you have to do is buy the products, run the correct contingency decals, and submit your proper paperwork to earn payment for your win. NHRA Contingency program partners include ATI Damper, Chevrolet performance Cylinder Heads, MANLEY Connecting Rods, and many others.
Last but not least important, having goals is essential, especially if you want to be the next Lewis Hamilton or Max Verstappen. Besides, having goals will help you to choose the right contingency program.
The great news for up-and-coming racers is that contingency sponsors come from motor oil manufacturers, racing fuel providers, tire companies, consumer product sellers and race promotions themselves (including many others. 
So whether you race flat track, hill-climbing events, desert races, drag racing or any other type of motorsport, there's probably a racer rewards program built into the event. And it may be as simple as showing up, signing up and paying the entry fee to take advantage of the program.
There may be gas certificates in your future if you do – but that's contingent on you doing your part!