As my son and I sat in the pit for the BITD Vegas to Reno event, we commented on how hot it was. The race normally runs in August each year – in the Nevada desert! Temperatures can reach up to 114 degrees Fahrenheit.
We commented that it didn't make sense to run these races in the hottest months of the year – why don't they run them in the winter, when the temperatures are a bit saner?!? We got back to Las Vegas just in time to witness a rare rainstorm. Everyone from the race had wished they were able to race in wet conditions.
That got me thinking, are there desert races that run during the winter months?
In the United States, winter officially goes from December 21st to March 20th (for the 2021-2022 season). There are many desert races, off-road races and Baja races that occur during those months. Promotions like Best in the Desert, SCORE, VORRA and Ultra4 all have events in the winter.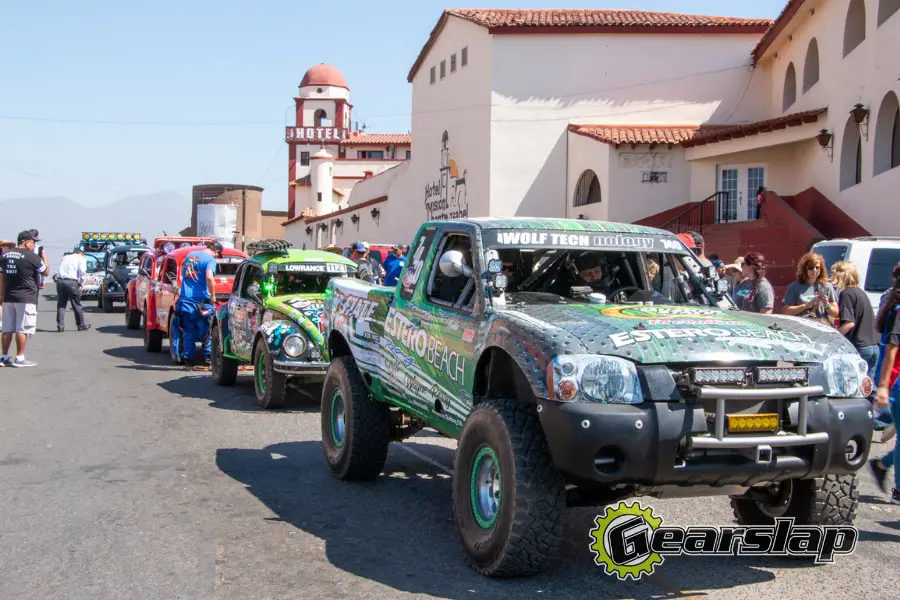 The excitement doesn't stop just because the weather gets cold(er) – or more likely, more pleasant. Some of the sport's most brutal, adrenaline-pumping races are held during the winter months no matter the weather conditions (for the most part). In this article, I'll be highlighting a few of the most noteworthy.
Are There Baja Desert Races in the Winter?
Yes. Big yes. Don't get it twisted—desert racing is a year-round pursuit. In fact, there isn't just one individual race in the desert during the winter, there are many. One might even say a plethora of desert challenge events.
With so many different groups holding so many different events in so many different locations, the action never lets up for a minute. Not only do all sorts of high-speed hijinks go down during the winter, but they tend to be some of the most exclusive and exhilarating of the whole calendar year.
Along with races that actually take place on the Baja Peninsula, like the prestigious Baja 1000, the period between December and March is chock full of blistering competitions that feature as their backdrops the unforgiving deserts of Nevada, Arizona, inland California, and even distant Saudi Arabia. Where they race in the Sonoran Desert, San Felipe, Dakar, Arizona Deserts and north of Las Vegas.
Which Racing Organizations Have Races in the Winter?
Some of the biggest organizers and promoters in the sport keep their engines revved into New Year and beyond, including:
Southern California Off-Road Enthusiasts (SCORE)
Ultra4 Racing
Best in the Desert (BITD)
The National Off-Road Racing Association (NORRA)
The Valley Off-Road Racing Association (VORRA)
Legacy Racing Association
Mohave Off-Road Racing Enthusiasts (MORE)
When you see any of the names listed above, you know you're in for a world-class off-road racing experience.
Winter Desert Racing Event Calendar
The following high-profile races should satisfy your off-road racing fix when the days get shorter, and the heat of hundreds of roaring engines give the desert sun a run for its money.
What: 600-800-mile Loop (approx.), 900-Mile Point-to-Point (approx.)
When: Nov. 15-20
Where: Baja California
Technically, SCORE International's world-renowned Baja 1000 takes place a little before winter. However, no list of end-of-year desert races would be complete without a nod to the one that started the desert race craze.
This scrappy ~1,000-mile scramble, which has classes for cars, trucks, motorcycles, ATVs, and dune buggies, has been a bona fide institution since 1967. Fun fact: while it's called the Baja 1000, the Loop event runs somewhere from 600 to 800 miles on average, while the Point-to-Point dash is only around 900.
What: 8,000-Kilometer Point-to-Point
When: Jan. 2-14, 2022
Where: Saudi Arabia
The fabled Dakar Rally, a gargantuan two-week, multi-stage marathon leading drivers through the beautifully diverse deserts between Ha'il and Jeddah (for this go-around, anyway), is equal parts automotive festival and high-octane international face-off.
The upcoming 2022 event will mark the 44th edition of the race, which stretches out over 10-15 days. Each day focuses on a different stage, ranging from breakneck loops and exploratory expeditions to agonizing marathon legs.
Dakar offers some pretty broad and meticulously delineated categories, so all comers are welcome. Getting there may be a tall task, but I guarantee it will be worth the trouble.
What: 250-Mile Point-to-Point (approx.)
When: Jan. 5-9, 2022
Where: Pahrump, NV
Legacy Racing Association's Desert Showdown may be the new kid on the block in the off-road racing scene (the event only made its debut in 2021), but it's already making serious waves.
Daring car, truck, and UTV drivers are invited to sign up and try their luck on a 250-mile course fraught with blinding dust, shifting sand, razor-sharp crags, and numerous opportunities to break down or end belly up in the arid Nevada badlands. Needless to say, Desert Showdown gives both drivers and spectators exactly what they want: fierce competition and a hell of a good time.
What: 80-Mile Loop (approx.)
When: Jan. 6-8, 2022
Where: Parker, AZ
Ringing in the season in style is the Parker 250, one of the earliest events of the year and the shorter of the two long-running Best in the Desert off-road raids.
Held in Parker, Arizona, the Parker 250 is a couple hundred-plus miles of wickedly rugged terrain carved out specifically to put a hurting on cycle, quad, and UTV drivers alike. Velocity is the name of the game here, as the thrice-run 80-mile loop essentially amounts to a sprint that can be won or lost in the blink of an eye.
Come for the shameless display of motorized muscle; stay for the Parker Python, an extended stretch of bone-jarring jumps that's sure to get you jumping out of your seat. 
What: 135-Mile Loop (approx.)
When: Jan. 20-23, 2022
Where: Parker, AZ
The bigger, scarier brother of the action-packed Parker 250, the Parker 425 takes the basic premise behind the former race and cranks the volume up to 11.
While the 250 is more about speed than strategy, this grueling 425-mile haul is designed to push drivers' endurance and the reliability of their vehicles to—and often past—the breaking point. Along the way, they'll drift, skid, and soar as they seek to overcome both natural and manmade pitfalls in the barren battlefield that is Parker, Arizona.
Due to the added difficulty, this race is open only to tricked-out car and truck jockeys. 
What: 165-Mile Point-to-Point
When: Jan. 27-Feb. 5, 2022
Where: Johnson Valley, CA
It takes some stones to call your event "King of the Hammers." To live up to a name like that, the spectacle it's attached to needs to be the most bruising, barbaric, and badass of its kind. Ultra4's annual desert rampage lives up to its moniker and then some.
This nine-day event boasts a different race every day, progressing from dirt bikes to quads to UTVs to an open four-wheel-drive class and finally onto the main event, the titular Ultra4 titans. 
This year, 400 teams of experienced dirt-slingers will vie for supremacy in craggy Johnson Valley, California, a formidable landscape that involves almost as much rock crawling as pure racing to traverse successfully.
This one is broadcast live online via Ultra4Racing.com, so if you're not able to be there in person (sucks for you), I highly recommend tuning in to the mayhem remotely.
What: 41-Mile Loop
When: Mar. 4-6, 2022
Where: Fallon, NV
If you know anything at all about desert racing, you know that the Fallon 250 is one of the premiere short-distance events in the sport. 
It's nothing less than a right of passage for endurance racers of all stripes, American and otherwise, and it always manages to be one of the electrifying and memorable events of the many headquartered in Nevada. Fallon is a veritable playground for adventurous pedal pushers, as ruthless and radical as they come.
Just about anyone with an eligible off-road vehicle can tackle the much-talked-about 250-miler, as there are classes for trucks, bikes, UTVs, and buggies. But make no mistake—not everyone will finish.
What: 108-mile Loop
When: Mar. 9-13, 2022
Where: Primm, NV
Last but certainly not least, there's the Mint 400, another big-deal event that revs up during the home stretch of the winter season. This showcase bears the special distinction of being the second oldest of its kind after the inimitable Baja 1000, having been held annually since 168.
The fun kicks off with a parade down the Las Vegas strip, followed by 48 hours of partying in Sin City. Then comes two full days of the most punishing off-roading ever to occur on the continent.
With 500 different teams in the mix and more than 50 individual classes (car, truck, bike, UTV, and even specialized military vehicles) encompassing extreme motorsports enthusiasts from literally all over the world, everything about this race is massive.
Where to Find an Off-Road Racing Event Calendar
The best place that I've ever found to see all the upcoming events is on the Race-Dezert website. They are on top of it when it comes to updating the event calendar and letting people know what races are coming up. 
I hope that Gearslap can someday get to that level. In the meantime, we'll spend the winter learning more and writing great articles.