If you're searching for some cheap tires but still want quality, you'll inevitably come across some of the lesser-known brands in the industry. If you sort the tire prices by lowest, you're bound to come across these brands.
Brands like Douglas, Milestar, Hercules or Primewell, offered at big box stores like Walmart, are not well known because they usually don't advertise. This puts them in the "generic" category.
But do these generic tires offer the same quality and durability as the brands we're all familiar with? Brands that spend piles of cash on getting their name out there – like Goodyear, BF Goodrich or Maxxis.
Some generic tires are manufactured in the same facilities as well-known brands. They may use the same molds and rubber compounds but they don't spend on advertising for brand awareness. Most generic tires meet the safety, durability and quality meet the standards set in the tire industry.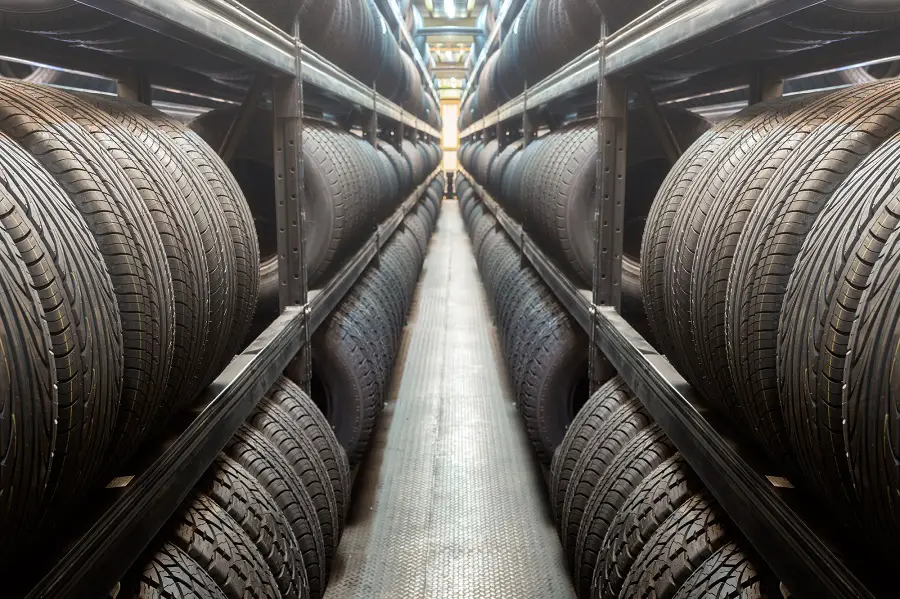 Some use the same factories but use slightly lower-quality materials but they still have to meet DOT standards to be on the road (Department of Transportation in the United States).
So, if you trust the sign-off of the government, you can take comfort in knowing they at least passed those tests. Some of these generic tires have even passed tests put on by Consumer Reports – so it's worth checking out their results as part of your research.
What Types of Tires are Produced by These "Generic" Brands
GearSlap is first and foremost a site about racecars and motorsports. Many of these generic brands don't make race-specific tires. 
In that regard, we're out of luck.
But most of us still have one, or two, or more, daily drivers that will need tires someday. It's worth noting what these brands make.
For the most part, they focus on general consumer tires – stuff with broad appeal – like All-Season Tires. Their tires will fit light trucks, sedans, commuter cars, and SUVs. The "general consumer" wants tires that perform well in dry conditions, wet roads, and the occasional dirt road.
They don't usually produce tires specific to desert driving, offroading, or any type of racing. That doesn't have mass appeal and therefore wouldn't make financial sense.
Who Makes Your Tires?
The majority of the world's tire market is dominated by a few giant companies whose names are in the public domain. 
However, these companies do not brand all the tires they manufacture. They produce generic tires and have numerous subsidiary brands which they use to dominate the market, so you might not always know who makes your tires.
These major companies include Michelin, BFGoodrich, Cooper, Yokohama, General, Firestone, Continental, Hankook, Pirelli, Mickey Thompson, Kumho, Nexen, Nitto, Toyo, and Goodyear.
All these brands have plants in the USA. However, only Cooper and Goodyear are genuine American brands.
These manufacturers do not build all their models in one location exclusively. They choose a site depending on the local tire needs and cost-efficiency.
We took a look at some of the more popular generic tires as well as some that are at the bottom of the list when it comes to cheap tires.
Let's get into it.
Who Makes Douglas Tires & Where are They Made?
Douglas Tires is part of the Kelly Springfield Tire Company, a Goodyear Tire and Rubber Company sub-brand. Douglas takes pride in being a U.S. company that designs tires in-house.
Douglas tires are distributed exclusively by Walmart. This means that you can only buy Douglas tires at Walmart stores.
Goodyear tire is a well-known megabrand that has a history of producing durable and safe tires. The fact that they design and produce Douglas Tires for Walmart is something that was worth discovering.
I've often wondered if Douglas tires were any good… so I bought a set for my daily driver, an Audi Allroad, about six months ago.
Manufacture locations
Goodyear manufactures Douglas in the Kelly Springfield manufacturing plants for Walmart. Douglas is a proprietary label created by Goodyear subsidiaries specifically for the retail giant.
You can determine the exact location of manufacture of a Douglas tire by consulting the NHTSA Manufacturers Information Database. The first two characters that follow the "DOT" of the dot code engraved into the tire's sidewall serve as a reference point.
Are Walmart Tires Good and Are They Worth It?
Since Douglas tires are produced by Goodyear they have years of research, development and design behind them. They obviously wouldn't cut corners and produce crappy (unsafe) tires to be sold through one of the nation's biggest Big Box chains.
That would be too risky.
So Douglas Tires were created as a low-cost alternative for the budget-sensitive Walmart Auto Care Center shopper.
Do I like them? Yes, I do. They're durable, sticky when they need to be and perform well in the wet. My old tires felt like they created too much drag and I can say that my Douglas tires provide a comfortable ride and feel smooth.
I've put about 10,000 miles on them in the past six months and I can say they've held up pretty well.
And I don't get any wobbles with them at higher speeds. For "science" I took them up to 120 mph just to see what they'd do.
They held up… but I now have fewer points on my license due to my test. Oh well. I took one for the team!
Who Makes Hankook Tires & Where Are They Made?
The Hankook Tire & Technology Company makes Hankook tires. Hankook company based in Seoul, South Korea, was founded in 1941 by Mr. Cho Hong Jai. Hankook has supplied car manufacturers like Chevrolet, Ford, Toyota, and Lincoln directly as original equipment.
In the United States, Hankook Tires offers a full array of high-performance and ultra-high-performance passenger tires, light truck and SUV tires, as well as truck and bus tires.
Hankook's Manufacturing Location(s)
Hankook has technical centers in Germany, China, Japan, South Korea, and the United States. Additionally, it has manufacturing plants in China, Indonesia, Hungary, South Korea, and the United States.
Hankook opened its first manufacturing facility in the U.S. in Tennessee. Moreover, the headquarters of Hankook Tire America Corp is here too (Nashville).
They are probably one of the better-known brands on our list of "generics".
Who Makes Milestar Tires?
Milestar Tires are a subsidiary of Taiwanese firm Nankang Tires. Nankang Tires has a long history of producing high-quality, low-cost tires. TIRECO distributes Milestar tires in the United States, as well as Nankang's other sub-brands.
The Milestar brand offers a wide range of tires to meet the needs of the majority of customers. Light trucks, passenger vehicles, ultra-high performance, and commercial tires are among the company's offerings.
The company is not an original equipment manufacturer but instead targets the tire replacement market.
Manufacture Location(s)
Milestar tires are made in Nankang's plants located in Taiwan. Their tire production plants are located in the Taiwanese cities of Hsinfung and Nankang. The Hsinfung facility is where the majority of Milestar's products are made.
Who Makes Hercules (an Ironman) Tires?
The Hercules Tire and Rubber Company manufactures Hercules tires. 
It was founded in the northeastern United States by a consortium of tire merchants and retreading businesses in 1952. In 1960 The Cooper Tire & Rubber Company started manufacturing Hercules tires. The companies are in a partnership to this date.
Hercules Tires was purchased in 2014 by American Tire Distributors (ATD). The company is known for developing affordable tires with cutting-edge technology that makes driving exciting and joyful.
Hercules also manufactures Ironman tires under a different brand name. It is a crucial player in the replacement tire market, providing tires for a wide range of automobiles. It also supports the sustainability agenda and promotes environmentally friendly activities.
Manufacture locations
Hercules Tires are made in Findlay, Ohio, by the Hercules Tire and Rubber Company and the Cooper Tire and Rubber Company.
Who Makes Crosswind Tires?
The Shandong Linglong Tire Company makes crosswind tires. The Crosswinds brand was developed to compete with the cheapest tires on the market in terms of pricing. These tires are made in various styles to fit small passenger cars, SUVs, and small to medium-sized trucks.
The Shandong Linglong Tire Co. Ltd is one of the top three tire manufacturers in China and one of the world's largest. TBC (Tire & Battery Corporation) serves as the distributor for LingLong tires in Canada and the United States.
Manufacturing locations
Crosswind Tires are manufactured in Zhaoyuan, China, and Thailand. Thailand was the company's first manufacturing plant. Since then, manufacturing has been slowly shifting from China to Thailand.
Also, the company has research and development facilities in Ohio and Beijing, with a testing center in Europe.
Who Makes Primewell Tires?
Giti, a Singapore-based tire manufacturer, produces Primewell Tires. Giti sells its tires and other products all over the world. The Runway, G.T. Radial, and Dexter brands are also manufactured and sold by the company.
Primewell's goal is to supply clients with high-quality tires at a reasonable cost. These tires are sold by local brands like Firestone, ExperTire, and Wheel Works. You can also purchase them on the internet.
Manufacturing Locations
The Primewell tires are manufactured in China and Indonesia. Recently, Giti opened a new manufacturing plant in South Carolina.
Primewell research and development centers in the United Kingdom, Germany, Indonesia, China, and the United States collaborate to deliver the best high-quality product.
Locally the companies that sell Primewell tires are mainly Firestone and its subsidiary companies. They are the most well-known licensed dealers in the United States. These tires are made specifically for them. Through Firestone, you can get on-the-spot customer care from genuine retailers.
Who Makes Other "Generic" Tires
Most large companies look to increase their sales by all means, meaning there is no shortage of options for "generic" tires. Here is a list of other companies and their generic sub-brands:
Cooper produces the Durango tires for small trucks and Mentor tires for small passenger vehicles.
Goodyear – They have a sub-brand known as Concorde for entry-level passenger cars.
Yokohama offers Allegiance IV. However, their generic tire business is minimal.
From my time in retail I have learned that you don't have to feel like you're taking risks when buying generic brands. From generic oil brands, generic batteries and generic tires, you get quality at affordable prices. 
It's a win-win.