If I'm being honest, I'd never heard of the Flying Spur until I set out to write this series of articles on super-luxury cars, supercars and hypercars.
I'd heard about some of the incredible offerings from Bentley Motors, and have even seen a few Bentleys driving around my city, but I didn't know anything about the Bentley Flying Spur.
As I always do, I set out to learn and share what I found.
If you are a fan of performance, uncompromising luxury, and an exterior that just screams class, you'd be hard-pressed to do better than the Bentley Flying Spur. The name can sound a bit strange if you've never heard it before. Never fear, we're going to give you a full breakdown of the Bentley Flying Spur.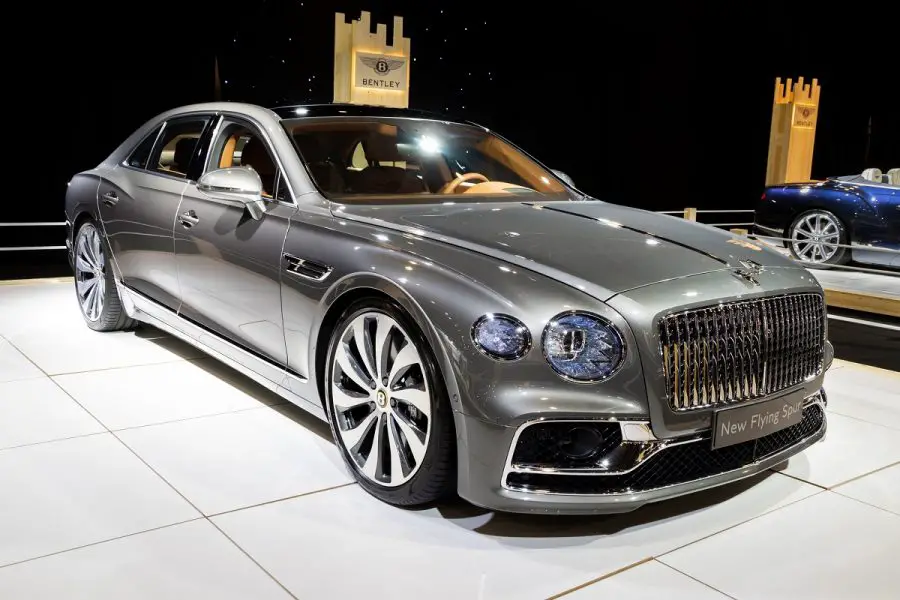 What is a Bentley Flying Spur?
The Flying Spur by Bentley is a long-standing series of sedans from the legendary luxury automobile manufacturer. It is visually striking, even among comparable Bentley products, and it is unique in a number of interesting ways.
To understand what makes this car special, it will help to learn a little bit about the company that makes it, and the history of high-end luxury cars, especially those with a performance edge.
Who Makes Bentley?
The Bentley Motors company was established just over a century ago in 1919 and is headquartered in Crewe, England. The company was founded by H. M. Bentley and has changed hands quite a few times since its inception.
In 1931, it was bought by Rolls-Royce Limited. Vickers PLC acquired the company in 1980, and today it is owned by the Volkswagen Group which bought Bentley in 1998.
Does BMW Own Bentley?
No. It is a common misconception that Bentley is owned by or is a subsidiary of BMW. This is likely due to the common belief that "Bentley" is a casual slang term for BMW.
They are, in fact, completely separate luxury automobile manufacturers, and are not connected in any way except for the industry niche they share.
The Origin & History of the Flying Spur
The model name comes from a famous British clipper ship of the same name which sailed in 1880. It achieved fame for traveling far and wide for 20 years, a very high achievement in sailing at the time.
It was made of teak and greenheart and was the most capable ship used in the tea trade. The Bentley Flying Spur was given this name as it was designed to be practical, elegant, extraordinarily reliable, to out-pace and outclass other commercial automobiles of its time.
The original Bentley sedan was first produced in 1952 and introduced to much fanfare. Six years later, it was redesigned into the "Continental Flying Spur." In 1959, the company upgraded the engine from a 4.9-liter to a 6320cc V8, delivering a significant increase in power and ft of torque, which set the bar for performance at the time.
Under the ownership of the Volkswagen Group, the company saw fit to reintroduce the Flying Spur in a modern, four-door iteration.
In 2005, new life was breathed into the concept with a W12 turbocharged 6-liter twin engine and a host of advanced luxury features, high horsepower, many feet of torque and a sound that can only come from 12 cylinders.
It has been said that the innovative chassis, steering, and suspension of the 2005 model created a driving experience like no other. As a result, the series has been popular ever since among luxury/performance aficionados with deep pockets.
2022 Bentley Continental Flying Spur Review
Now that we've got a basic education in the history of this iconic line of cars, let's talk about the latest manifestation of the Flying Spur.
For a start, it gets a solid 10 out of 10 from Car and Driver magazine, a glowing review from Edmunds.com, and Top Gear calls the 2021 Spur "Perhaps the most compelling four-door limo Bentley's built since the Arnage." In case you didn't know, the Arnage is arguably the most recognizable of all Bentleys, and possibly the most recognizable luxury car in existence.
In short, if there's a wealthy character in a Hollywood film, they will be portrayed as owning an Arnage. So, that's very high praise coming from Top Gear.
But does it live up to the hype? Frankly, yes it does. For a start, the interior is absolutely dazzlingly beautiful.
The all-leather interior is impeccable and it makes extraordinary use of information and entertainment technology without feeling like something out of a science fiction movie.
The center console, for example, can rotate (yes, very much like something in a James Bond movie), switching out the LCD screen for either analog gages or a plain wooden strip on the panel. This feature is controlled by an eerily-silent electric motor.
The Touring Specification package offers a HUD (heads-up display), night vision, lane assist, and adaptive cruise control. If those features don't sound super-advanced, then you probably already drive some sort of super-luxury car!
Also, the one-of-a-kind newly redesigned Bentley hood ornament can retract and disappear at the touch of a button.
We could go on for pages about all the tech Bentley has managed to cram into the interior, not to mention all the immaculate leather, knurled chrome, and other hand-made quality of life features that make this car feel like a dream. But we would be remiss if we didn't tell you what's under the hood.
Under the Hood of the Flying Spur
The 2022 Flying spur comes in three versions, the Electric Hybrid (which comes with a powerful electric motor), the V-8, and the W12. The electric hybrid delivers 536 horsepower via its twin-turbo V6 and electric combo which offers 664 lb-ft of torque. The non-electric hybrid V8 is standard with the basic package and the W12 is the heaviest hitter of the bunch.
The available trim packages are Cool Harmony, Alter Ego, and Storm Noir. Cool Harmony is elegant and stylish. Alter Ego is a bit edgier and Storm Noir offers the most aggressive styling of the three.
Performance
Every model comes with an 8-speed dual-clutch automatic transmission including all-wheel drive, and the potent Bentley twin-turbocharged engine. The W12 generates 626 horsepower and is capable is going from 0 to 60 in 3.5 seconds in ideal conditions.
Both the V8 and the W12 make the jump from 0 to 60 in the same amount of time, but the W12 goes from 60 to 100 more quickly and beats the V8 model on a ¼ mile run. The W12 is the same engine that you'll find in the Rolls-Royce Ghost.
With its intelligent suspension, all-wheel drive, and all-wheel steering, it handles curvy mountain roads like a champ. As a Bentley, the Flying Spur meets and exceeds the brand's reputation for delivering more performance than its chief competition, Rolls-Royce.
The electric hybrid is no slouch either, generating 553 foot-pounds of torque and 536 horsepower.
On the downside, the non-hybrid versions are gas guzzlers. The W12 gets 12 and 19 MPG city and highway. The V8 does a bit better at 15 and 20 MPG. The EPA has yet to release fuel efficiency specs for the hybrid, but you can expect they will be considerably better for the loss of power.
You can find a local dealer through Bentleymotors.com.
FAQs
Does Bentley use VW engines?
No. They are made by Rolls-Royce-Bentley, which is a subsidiary of Volkswagen. The Rolls-Royce 12-Cylinder Engines are known for power, performance and durability.
How much does a Bentley Flying Spur cost?
The current sticker prices are estimated between $200,000 and $225,000.
Are there variations/differences for the Flying Spur between the US and European models?
The only significant difference is the position of the driver seat; left side in the US, and right side in all other English-speaking countries. License plate indentations may also vary in size.
What is the Flying Spur known for?
It is known for elegance, performance, reliability, and style.
What are known issues with the Bentley Flying Spur?
Other than the outrageous price point, the biggest complaints are in regards to the relatively few driver-assist features. This car is meant to be experienced, so Bentley has gone a bit light on automation.
Why are Bentleys so expensive?
These cars are expensive because they are finely tuned, hand-built, luxurious, and performance machines.
What is the cheapest Bentley?
You might be able to pick up a used 2000 Arnage or a Bentley Continental for around $19,000. But the cheapest brand new Bentley currently is the Bentley Bentayga which is an SUV-like luxury vehicle. They start at $180,000.