I've driven most of my "dream cars" but will probably never get the chance to own them (like a Lamborghini or Bugatti). They're too far out of my league. So I'm stuck with lusting after "reasonable" production cars.
I've driven many of the cars I've wanted to – whether that was through a driving experience or a legitimate test drive – but I didn't really want to "own" them. In fact, there aren't many cars that I've wanted to own but haven't driven.
Two cars that fit this category have been elusive for most of my life – the Lancer Evolution and the Subaru WRX STI. I've always wanted to own one of these cars (or both).
Sadly, however, they've been added to a list of production cars that I really want to own but may never get the chance – as we'll discuss below, cars like this are becoming less and less appealing for automakers to produce. Especially as they turn their focus to producing electric vehicles.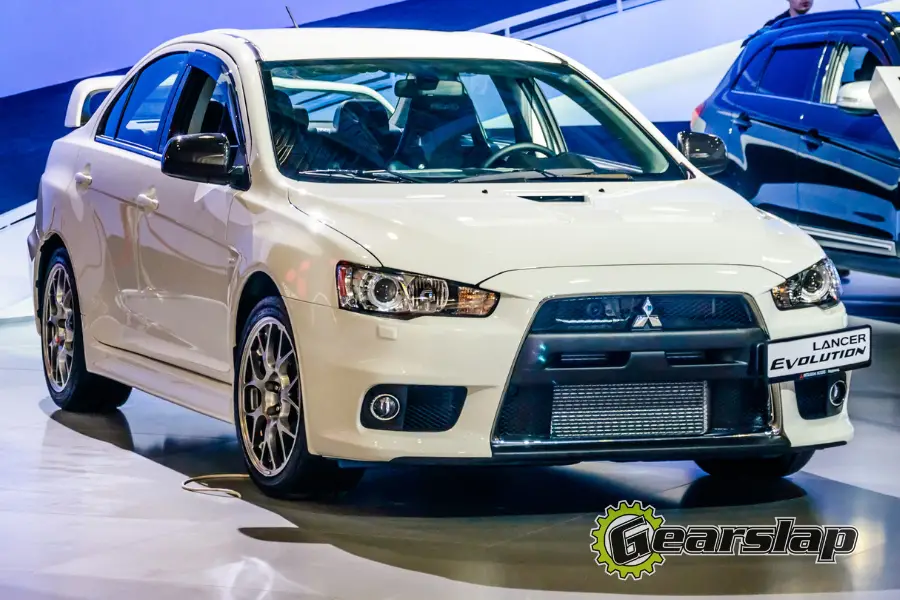 What is the Mitsubishi Lancer Evolution Series?
The Mitsubishi Lancer Evolution enjoyed nearly a quarter-century of run as one of the most versatile sport sedans ever built in Japan. The all-wheel-drive Lancer Evolution is commonly referred to as the "Evo" and remains a highly sought-after models in North America and the rest of the world, despite no longer being in production.
The Evolution was made famous by some amazing product placement in The Fast & the Furious (one of the movies on our list of best car-racing movies of all time). Brian O'Conner (played by Paul Walker) spent most of the movie racing around in a suped-up & brightly painted Evo VII.
Another model that helped put the Evo on the radar of race fans was the special bright red edition made for Tommi Mäkinen who won four WRC drivers championships for Mitsubishi. This car was exciting to follow through all the different WRC rally stages for many years.
The following facts about the Mitsubishi Evolution help you to better understand the significance of the Evo and why it remains a beloved sports sedan.
Who Makes Mitsubishi
Mitsubishi Motors Corporation is one of the oldest carmakers in Japan and a subsidiary of Mitsubishi Heavy Industries, which was founded in 1870. Mitsubishi is one of Japan's oldest manufacturing conglomerates and is widely known for designing and producing the legendary Mitsubishi Zero fighter aircraft that was the backbone of the Japanese fighter force during WWII.
Mitsubishi Motors was founded in 1970 to continue as the automotive designing and building wing of publicly-traded Mitsubishi Heavy Industries. Mitsubishi Motors was formed during the parent corporation's 100th anniversary. Prior to 1970, Mitsubishi focused its automotive efforts on building highly competitive rally cars capable of competing in a global rally car and Grand Prix races.
When Was the Evolution First Produced?
Mitsubishi Motors first produced the Lancer Evolution in 1992. The Evo took the potent and light four-cylinder turbocharged power plant from the Mitsubishi Galant and placed it in the lighter Lancer sedan to create the Lancer Evolution. Mitsubishi's 16-valve turbocharged 2.0-liter 4G63T engine produced nearly 250 horsepower with a pair of counter-rotating shafts balancing the engine vibrations for smoother running and better handling.
A stout iron engine block enabled Mitsubishi to modify the engine to produce better power in the Evo. Mitsubishi offered the Lancer Evolution as a special trim package for the Lancer model. That trim package included additional performance modifications that turned the stock model with AWD into a terrific-handling rally car right out of the box.
The Lancer Evolution I was built from 1992 and until 1993. Mitsubishi quickly replaced it with the Evo II model, which produced up to 256 horsepower and 228 pounds-feet of torque. An improved suspension and slightly longer and wider wheelbase improved handling and stability.
Where is the Lancer Evolution Currently Sold?
Mitsubishi Corporation ceased production of the Lancer Evolution in 2016, which was Evo's tenth production model. There are no new Evo models available anywhere, but used models are very popular and in high demand. People looking to buy quality used models should search the internet to locate models for sale through legitimate dealerships and private sellers.
Which Variants/Trim Packages Are Offered
Ten different Lancer Evolution models built over a quarter-century helps the Evo to deliver a variety of options for buyers on the used market. Mitsubishi Motors North America did not offer the Evo in the United States until the Lancer Evo VIII debuted in 2008. Buyers in the states were rewarded with possibly the best Lancer Evo model made.
The turbocharged inline-4 delivered up to 295 horsepower. A five-speed manual transmission sends the power to all four drive wheels with lots of torque available at low RPMs. The 2008 Lancer Evolution GSR weighs 3,558 pounds and goes from 0-60 mph in a very impressive 4.6 seconds. It takes 12.5 seconds to reach 100 mph, and the Lancer Evo GSR can turn a quarter-mile in 13.4 seconds at 103 mph.
When a car with a light curb weight produces this much ft of torque, puts the power in the drivers' hands via a 5-speed manual transmission and is "Fast Famous", you know you're in for an awesome ride when you get behind the steering wheel.
What Makes the Lancer Evolution a Legend
The Lancer Evolution in its stock form makes for an outstanding rally car. The combination of a sturdy chassis, excellent suspension, incredibly responsive all-wheel-drive system and a potent engine in a light sedan configuration makes the Evo a great candidate for aftermarket modifications. The turbocharged 2.0-liter engine is sturdy and while either a six-speed automatic or a five-speed manual sends the power to all four drive wheels.
What Is So Great About the Lancer Evolution
The Lancer Evolution offers high performance in a relatively affordable sports sedan package. It started off with an already proven engine in the Galant and placed it in a purpose-built rally car configuration. Various improvements over the years make an already great rally car platform better with outstanding power and handling.
Motivated owners can take an already great sports sedan and transform it into a Formula One-level performer, and many have over the years. If you want something capable of challenging for a trophy while racing up Pike's Peak, the Evo is a perfect pick.
Are There any Known Issues?
In its stock form, the Lancer Evo is a very reliable vehicle that is easy to maintain. Some critics of stock Lancers suggest the interior should offer more creature comforts. But most buyers are buying it for the fun factor.
The only real issue with the Lancer is how well it was treated by its original and any subsequent owners. Buyers of used models should watch out for heavily modified models and others that might have been run hard by one or more prior owners. But when the motor is mostly stock and the Lancer has been cared for properly, it can provide many years and miles of reliable service.
Recent Selling Prices
As any first-time owner of a Lancer Evo can affirm, the car really holds it value when properly maintained and has not been abused. Selling prices for used models with relatively low miles often are very close to their selling prices when new. That partly is due to the Lancer Evo being so focused on performance and handling and less on creature comforts that generally do not hold value.
The most recent iteration is the Mitsubishi Evo X but it is still hard to find. It performed exceptionally well as a halo model for Mitsubishi Corporation until the carmaker decided to end production after 2016.
Why did Mitsubishi stop the evo?
Mitsubishi axed the Lancer Evo to focus on producing crossover SUVs and hybrid cars. Its massive popularity remains intact and raises the question among those who want to know: Is the Mitsubishi Evo coming back?
While there are no immediate plans to do so, investors and car buyers alike are hoping for a return soon. The Lancer Evo's absence helps to make many remember what a great car it truly was. And its high resale value shows new models could hold their own in showrooms around the globe.
It's a sad day, and a sick twist of irony, when one of the most popular cars to hit the rally scene ceases production due to the evolution of the auto industry.