The 2022 Chevrolet Silverado ZR2 is the first of its kind. The introduction of the first-ever Silverado ZR2 is the best thing to happen to the Chevrolet lineup in over a decade. It's rugged and still sporty enough for everyone who wants a truck without having the full-size pickup that is often challenging on road trips or city driving.
It's also designed with the DNA of the off-road enthusiast in mind. It includes many features to provide you with an unparalleled off-road experience. What good is a pickup if it can't go anywhere? 
Chevrolet makes sure that this truck is up to the challenge of providing you with better performance both on and off-road. It comes fully equipped with the game-changing adaptive ride control suspension.
The Silverado ZR2 has new features such as an increased ride height (two inches higher than Z71), wider fender flares, and improved approach angles. The ZR2 also comes standard with a front electronic locking differential which significantly increases grip off-road. These features make this truck one of the most innovative and exciting trucks to be released in years.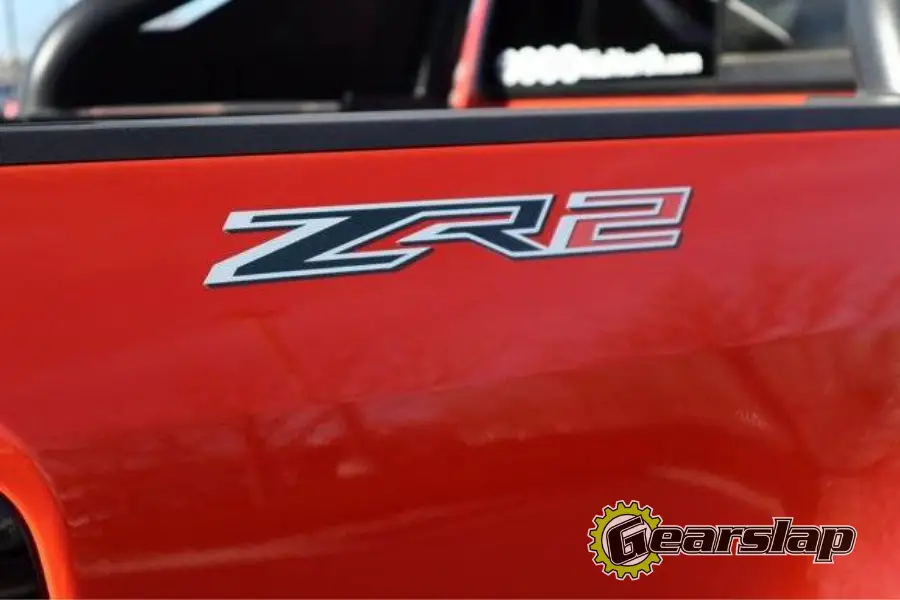 Off-Road Performance
One remarkable thing about the Chevy Silverado ZR2 is the anti-wrap link system that prevents the rear axle from wrapping. This gives you better performance when off-roading or handling bumpy roads. 
Another feature that makes this truck great for off-road driving is the raised ride height of two inches. The height increase also helps with approach angles, which are crucial to climbing over rocks and other obstacles while on a trail.
Engine
Under the hood is a 6.2L V8 that kicks out 420 horsepower and 460lb-ft of torque. While Chevrolet didn't specify the 0 to 60 time, it's estimated that it could make the run in about 8 seconds. There's no double that this truck isn't quick enough to have fun with or haul your gear where you need to go.
Design
The exterior is much edgier than the standard Silverado without looking too rugged to drive around town. The front grille is squared off, and the headlights are swept back. The black finish features a flowtie that increases airflow to the engine. 
The Chevy Silverado ZR2 comes in seven colors: Crush, black, summit white, red hot, bright blue metallic, cherry red tintcoat, and sand dune metallic. Each comes with a unique ZR2 logo. 
The front fenders have been flared out to add width. They work in tandem with the standard box-side steps to provide increased chassis clearance for getting over larger obstacles when climbing or descending.
Interior
The interior is where most new ZR2 fans fall in love. It features a 13.4 inch LCD screen. This infotainment system allows access to all vehicle performance data like throttle, brake, and more. You can even choose between 2-wheel drive or 4-wheel drive right from this screen.
Then there's the 12.3-inch diagonal driver information center which gives you all the important information like fuel, engine oil temperature, outside air temperature, and tire pressure. Other great features include a flat-bottom steering wheel wrapped in leather or aluminum, depending on your preference.
The first thing you'll notice when getting into the Silverado ZR2 is just how comfortable everything inside feels. The seats are supportive and almost hug your back. As for the fit and finish, everything feels of excellent quality. There is no doubt that this was a top-of-the-line cabin we were stepping into.
Standard Features
Getting everything you need in a truck and a lot of what you want is what makes the new Chevy Silverado ZR2 a success. Some features include super cruise, following distance indicator, lane keep assist, forward collision alert, following distance indicator, automatic emergency braking, front pedestrian ranking, and intellibeam high beam assist.
Each of these features was designed to help you out every day and make your life easier should you ever find yourself stranded on a lonely road at night. Overall, this is one of the most complete and well-thought-out packages available today.
The super cruise, in particular, is a feature we love, and it's one of the most surprising things about this truck. When you engage it, it's like driving a car with no hands. Once the green bar on the steering wheel lights up, you can take your hands off the wheel. 
However, it is still important to pay attention when using super cruise. It's only supposed to be used on compatible roads. Also, it will disengage if you make any sharp turns. We like the feature and think it works well, but it is still meant as a temporary aid to help you save energy and stay within your lane while cruising down the highway.
Let's not forget that they come standard with every ZR2 model meaning you don't have to pay extra to get the safety features and enjoy all that it offers.
Is It a Solid Competitor to the Raptor or TRX?
The Ford F150 Raptor features a 3.5L EcoBoost V6 with an output of 450 horsepower and 510 lb.-ft of torque. The F150 Raptor is also equipped with Fox Racing Shocks and a Torsen front differential. The Raptor can go from 0 to 60 in 5.6 seconds. With some add ons, it can run alongside the TRX.
The Dodge Ram TRX features a 6.2L Hemi V8 with an output of 702 horsepower and 650 lb. ft of torque (aka Hellcat motor). It's a different breed for sure. That's zero to 60 in 4.4 seconds. The TRX is also equipped with Fox Racing Shocks and a Torsen front differential.  
The 2014 Silverado ZR2 does come standard with the 6.2L V8 engine that produces 410 horsepower and 434lb-ft of torque. The new action-packed ZR2 is estimated to make the 0 to 60 run in 8.2 seconds.
While the ZR2 comes with lots of great features, it's still no match for the Raptor or the TRX in terms of speed or power. While it does boast a powerful engine, it doesn't have a supercharger or unique tuning like the TRX.
However, the ZR2 does come with many exclusive features that other trucks don't have and has lots of off-road capability.

If you choose to upgrade your ZR2, there are lots of add ons available to feed your need, such as Baja racing kits and other off-road gear to take your ZR2 to the next level.