The RAM TRX (pronounced T-Rex) is supposed to be the Raptor killer, but is it? If you're considering purchasing one, or you're just curious about this monster pickup, read on to see all about the Dodge/RAM TRX. 
It's quite a truck, and you may feel very tempted to take out a second mortgage to get your hands on one. Don't say I didn't warn you.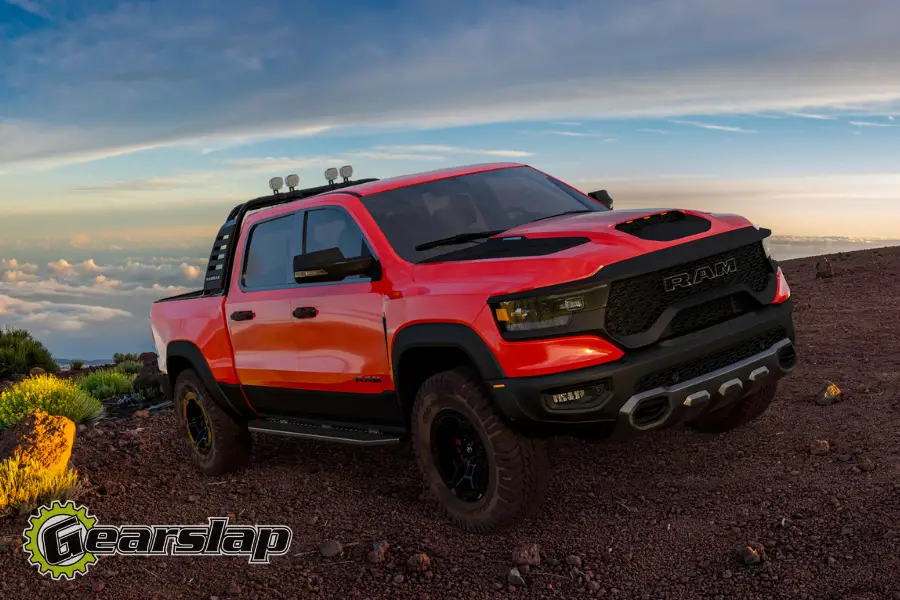 What is the RAM TRX?
Dodge's over-the-top answer to the Ford Raptor centers around a massive 6.2-Liter Hemi V8. Of course, since it's the same motor as you'll find in a Dodge Hellcat, it's also supercharged, pushing the horsepower up to just over 700 and the torque to about 650 lb/ft of raw power. 
So what happens when you combine forced induction with an already powerful motor and slap it into a Dodge 1500? Does running the quarter-mile in 12.9 seconds at 108 miles-per-hour sound about, right? How about rushing from a standstill to 60 mph in 4.5 seconds in your nearly four-ton pickup?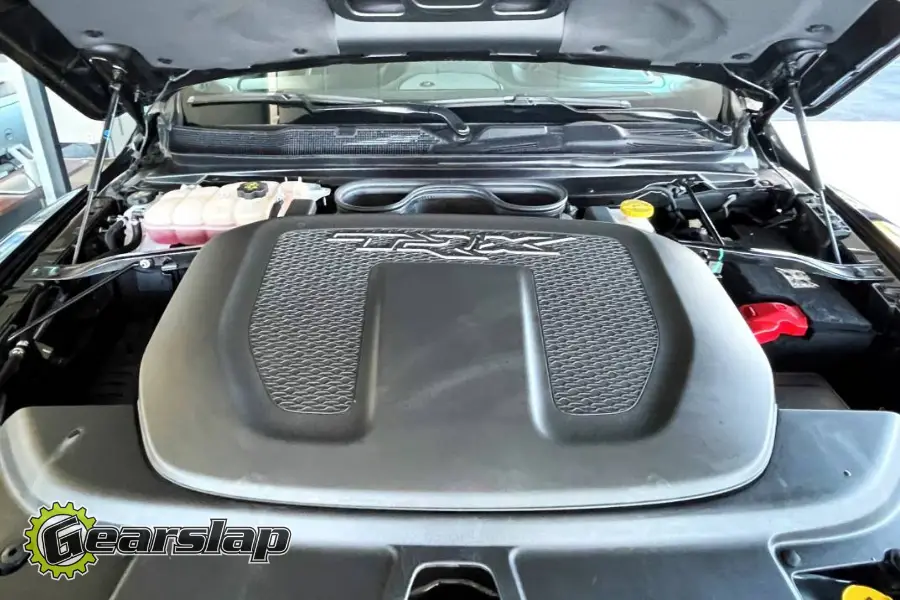 It's not all down to horsepower and performance with the TRX, but it's definitely a big part of the appeal for many enthusiasts. Plus, Dodge didn't really just shoehorn a massively powerful Hellcat engine into the RAM TRX. 
Instead, they took a comprehensive approach to the design with a ground-up philosophy. The suspension, brakes, transmission, and all the aspects of the truck come with performance and off-road capability in mind. The biggest issue for many interested shoppers is the whopping price tag. 

You may be wondering how much this behemoth costs. If so, have you ever heard the expression that if you have to ask, you can't afford it? That's pretty much true here too. So, how much is it? Without any options, the TRX runs more than $71,000. Adding heated seats and other options can easily push the price past eighty grand. 
And, when you add in some basic features that seem commonplace on most vehicles, you'll end up shelling out even more of your hard-earned money. For instance, adaptive cruise control will cost almost $1,000 extra, and the TRX Level 2 Equipment Group is the only way to get a wireless charging pad, but it comes with an expensive array of equipment that sets you back another $10,000.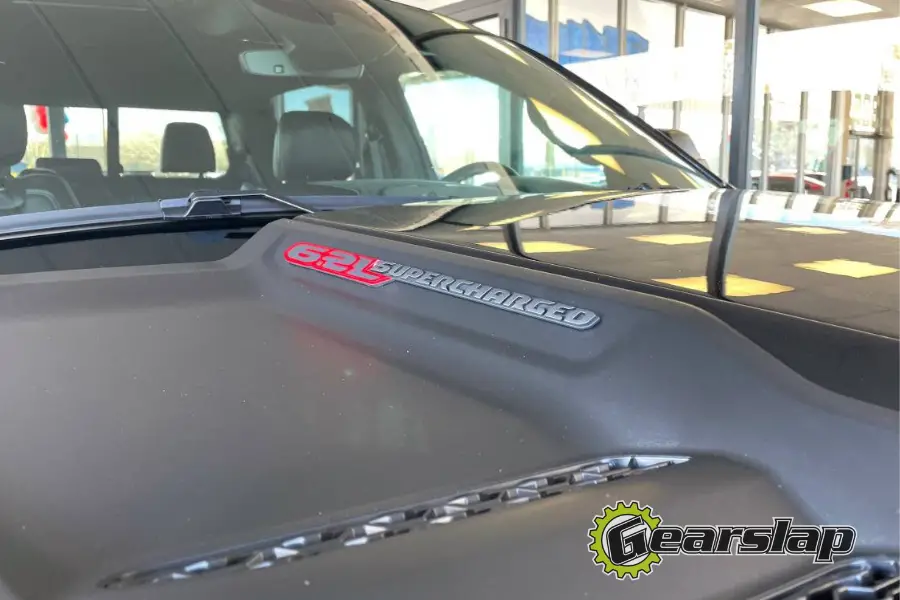 Can the TRX Crush the Competition (namely the Raptor)?
The RAM/TRX is born for excess. The TRX debuted in 2021, though some deliveries were delayed due to supply chain issues, and it seems to be popular with buyers so far. It's fair to say that the purpose of its design is to scorch the competition, and that means dominating the Ford Raptor in all the measurable categories. But how does it really stack up against the pickup with the blue oval?
These trucks are both an off-road racer's dream, but the Dodge has something that not every Raptor does: brutish power. Early Raptors had paltry horsepower numbers. Even though the third generation of Ford's top F-150 is also fairly powerful, it's not quite on par with the raw performance of a TRX. 
Their pricing is comparable, though you can get a bare-bones 2022 Raptor for around $65,000, a significant saving over the TRX that's often priced at near $80,000. Let's see what else makes a TRX stand out from the pack and also where it isn't ideal.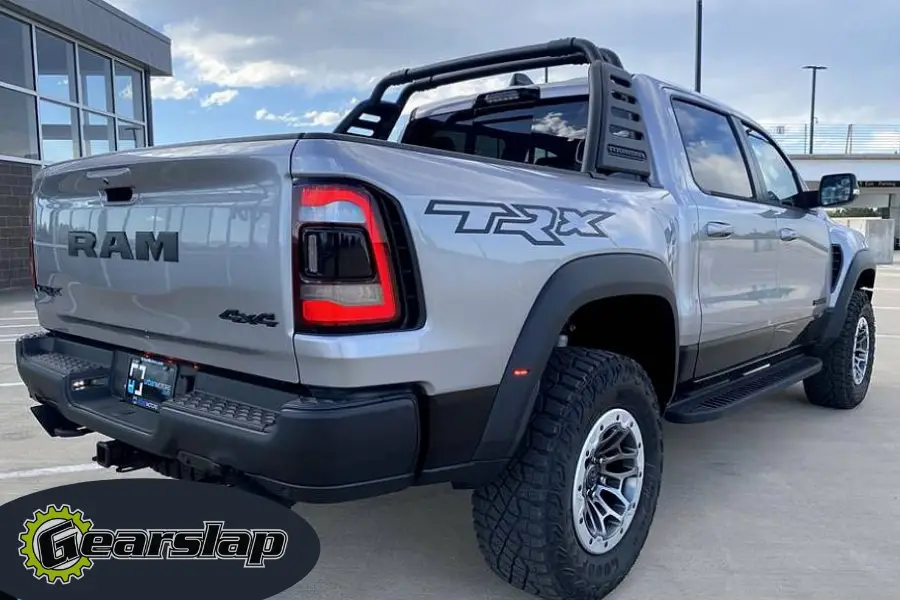 RAM TRX Features
The RAM TRX only comes in one main configuration, with four doors and a 67" bed. So for anyone who needs to haul around sheets of plywood in their pickup, this truck is a little short. But, you can carry passengers in the backseat, unlike early models of the Ford Raptor, where the second set of doors and seats weren't available. 
Most real-world TRX and Raptor shoppers probably don't care too much about cargo capacity, but these are pickups with genetics based on hard work, so it's a factor to consider, even if you're not a contractor or constantly hauling supplies. Where these trucks excel is off-road. That's the ultimate proving ground. 
The RAM TRX offers 13" of suspension travel, making it a demon on sandy desert tracks. Plus, it sports enormous 15" brakes at all four corners, so you know it will stop when you stand on the left pedal in an emergency.
All that off-road performance and power easily translates to plenty of grunt on the street as well. Simply change drive modes, and the TRX adapts to the conditions. All you have to do is press a button, and your truck is ready for whatever comes its way. Here are the different drive mode options available: 
Sport Mode: Optimal performance on paved roads with quicker shift times, sport-tuned stability control, tightened suspension, and a 30/70 split of torque
Tow Mode: Maximum torque off of the line for smooth acceleration with a heavy load, suspensions setting to minimize pitch and yaw, 45/55 split
Custom Mode: Dial in your own settings for the performance you want on the fly
Snow Mode: Engages a 45/55 torque split and reduces horsepower to get the best launches in snowy weather and maintain traction on ice
Mud/Sand Mode: The same 45/55 split and advanced throttle management work to minimize wheel slip and improve performance in muddy terrain or rainy weather 
Rock Mode: Even 50/50 torque split and an extra-low gear ratio to tackle serious off-road obstacles and terrain. This mode Also engages a speed control for managing steep descents without having to hold the brake.
Baja Mode: For many TRX owners, this is the mode that they bought the truck for. It's exclusively for taking on dunes with lightning-fast shifts and full suspension damping
TRX Performance Mode: This setting is for stoplight warriors and racers who need to manage wheel slip off the line for maximum traction and acceleration. It even helps you log your times!