I've always been a huge fan of off-roading. The mud, bumps, ruts, and rocks just make a weekend outdoors so much more exciting. That's why I was so intrigued back in 2014 when I first heard about Toyota Racing Development's contribution to some of Toyota's best off-road vehicles. 
The Toyota TRD Pro is a trim package for the 4Runner, Tacoma, Sequoia, and Tundra that Toyota introduced in 2015. It took the base models for each truck and tweaked them to give them improved off-roading options. If you're into off-roading, you've likely heard of this epic trim package and are interested in learning more about it.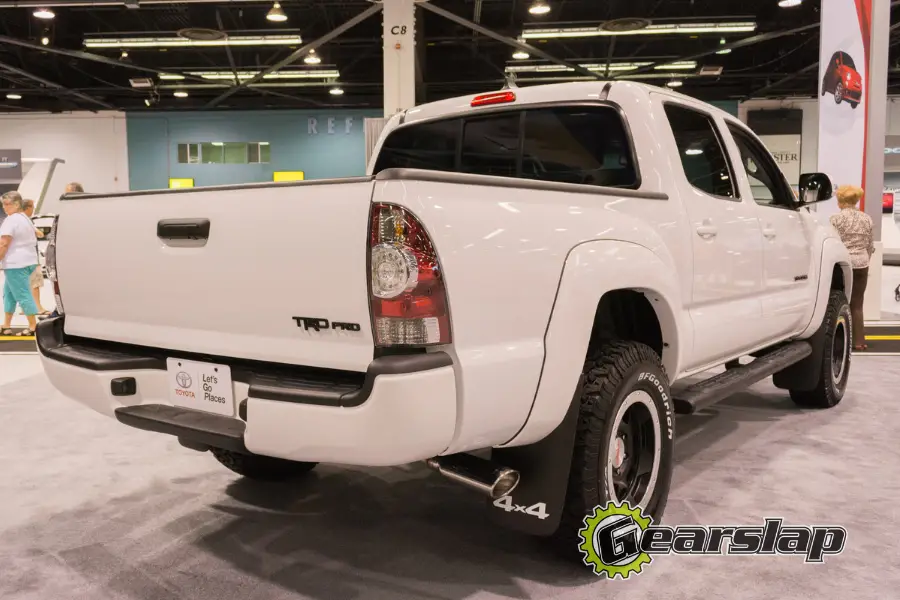 What Is the TRD Pro Trim Package?
Toyota introduced the TRD Pro package as a way to beef up its trucks' off-road capabilities. The trim package has seen a few updates here and there since its inception, but the changes have been minimal. 
The TRD Pro is Toyota's answer to Ford's F-150 Raptor package, which debuted in 2010 and shifted the way drivers view what should be standard in an offroad vehicle. Toyota's response was to up its own game by giving its offroad vehicles a makeover inside and out.
TRD Pro Package Specs
Trucks outfitted with the Toyota Off-Road Package, TRD Pro, are primed for crawling offroad. Each vehicle is equipped with FOX 2.5-inch internal bypass shocks to improve ground clearance and make an off-road ride easier on you and your truck.
Some of the key features you'll find on a Toyota TRD Pro vehicle are:
Black forged aluminum wheels
Standard Smart Key system with push-button start 
All-terrain tires
Multi-terrain monitor
Multi-information panel
Front skid plate
Cat-back exhaust
Standard 4-wheel-drive 
Now, let's dig into what each TRD Pro model can offer.
Tundra TRD Pro
The Tundra's TRD Pro package takes the standard Tundra features and kicks them up a notch. The new features include:
Rear under-seat storage 
CrewMax cab option
8-inch infotainment screen
TRD black chrome-tipped exhaust
The drawback of the Tundra TRD Pro is that towing capacity and bed size both go down from the base model. The base Tundra offers a 6.5 and 8.1-foot bed, but the TRD Pro offers 5.1 or 6.5-feet.
In addition, the base model's towing capacity is 10,200 pounds on the 4×2 Double Cab. The TRD Pro's 4×4 option gives a max of 9,900 pounds of towing.
Sequoia TRD Pro
Toyota's comfortable SUV gets an upgrade with the TRD Pro package. The Sequoia kept its vintage design but made plenty of room for the newest upgrades to give it more to do off-road:
TRD black roof rails
Black aluminum running boards on the rocker panels
Front and rear coil-spring double-wishbone suspension
18" black alloy wheels
The biggest drawback of the Sequoia TRD Pro is that it replaced the middle row of seating with two captain's chairs, giving you seating for seven passengers instead of eight.
Tacoma TRD Pro
The Tacoma TRD Pro package gives Toyota's smaller pickup a nice lift that will help clear obstacles off-road. The main features you'll find in the Tacoma TRD Pro are:
1.5-inch front suspension lift 
.5-inch rear suspension lift
16-inch TRD Pro black alloy wheels
3.5 L V6 engine
The Tacoma is still the little sibling of the Toyota truck family. However, the TRD Pro package gives it the opportunity to show it can play with the grownups.
4Runner TRD Pro
The 4Runner is already a favorite among off-roaders who want a taller, beefier truck to crawl over rough terrain. However, the TRD Pro package gives drivers a lot of what they're looking for in an even more rugged-looking exterior.
The upgraded 4Runner will give you:
17" matte black wheels
Black TRD Pro roof basket
Electronic locking rear differentials
TRD Pro all-weather floor liners
TRD front springs
TRD Pro vs. Raptor
It's no surprise that when auto giant Ford debuted the Raptor package in 2010, other off-road contenders would throw their hat in the ring to compete. 
Toyota saw a challenge when Ford introduced the Raptor. The newly-designed F-150 took off-roading to the max, and the TRD Pro answered in kind.
The F-150 Raptor's main features include a ton of off-roading necessities, including:
SuperCab or SuperCrew cab options
5.5-foot truck bed
Heated steering wheel
Leather-trimmed seats
3.5L EcoBoost V6
8,000 pounds of towing capacity
Skid plates
FOX shocks
Terrain Management system
11.5-inch ground clearance
One of the critical things the Raptor has working in its favor is Ford's terrain modes. When you take your Raptor offroad, you can switch to the Baja, Rock Crawl, or Mud/Sand terrain modes to get the most out of your truck.
The Toyota Tundra is the closest contender of all the TRD Pro vehicles, and it definitely puts up a fight. Although it doesn't have the same terrain management system the Raptor has, and it offers only 381 horsepower compared to the Raptor's 450, it makes up for it in other areas.
The Tundra TRD Pro can haul up to 9,800 pounds, beating out the Raptor's capacity by nearly 2,000 pounds. All TRD Pro options come with a full-sized cab, an infotainment system, and the option for a 6.5-foot truck bed. 
And most importantly, the TRD Pro package is available on four of Toyota's most popular off-road vehicles. In contrast, the Raptor is limited to the F-150 and the Ranger, although it'll be making an appearance on the upcoming Bronco in 2022. 
But for now, going for a TRD Pro means you don't have to resign yourself to a pickup if you were hoping for an SUV.
Pros and Cons of the TRD Pro Package
Still not sure if the TRD Pro package is for you? Here's a quick breakdown of the pros and cons of Toyota's off-road trim package.
Pros
Better handling offroad
Higher ground clearance
Better undercarriage protection
All-terrain tires
More rugged look
Cons
A stiffer, bumpier ride 
Pricier
TRD logo is all over the place
Lower fuel economy
Lower towing capabilities